Why this Work?
Lake sturgeon and other Great Lakes fish seek out rocky areas in fast-flowing currents in order to deposit their eggs during spawning season. However, many of the natural limestone reefs and rocky habitat areas were destroyed in the Detroit and St. Clair Rivers when shipping channels were constructed. Similar spawning areas in tributary rivers were made inaccessible as a result of dams or were damaged by development and sedimentation.
Sturgeon numbers declined dramatically in the early 1900s and their population remains at roughly 1 percent of historical levels.  Many scientists believe that the recovery of lake sturgeon is hindered by a lack of accessible, high-quality habitat, including rocky habitat needed to successfully incubate fish eggs.  As a result, the remediation plans associated with Area of Concern programs in the St. Clair and Detroit Rivers call for the construction of spawning reefs to compensate for the habitat lost historically and to help rebuild degraded fish populations.
A Team Effort
In 2001, a consortium of partners began working to mitigate for historical habitat losses by creating fish spawning reefs made of rock rubble placed on the river bottom.  The team is using an adaptive management process to develop and study each restoration effort so that subsequent projects incorporate lessons learned. 
Water Center specialists serve as team facilitators and project coordinators to help integrate the knowledge of diverse team members and ensure that decisions are based on sound science and the group's collective best judgement. In addition, they manage restoration grant funds and oversee sub-contracts for design, permitting and construction and work closely with Michigan Sea Grant on targeted outreach efforts.  Partners from the U.S. Geological Survey, Fish and Wildlife Service and Michigan Department of Natural Resources lead the biological and physical monitoring of projects before and after restoration.  Graduate students from the U-M School of Natural Resources and Environment have been conducting supplemental studies about larval and juvenile fish near reef projects.  Recently U-M researchers specializing in hydraulic engineering have been developing laboratory and computer simulations of water flow over reefs with different shapes to improve project design.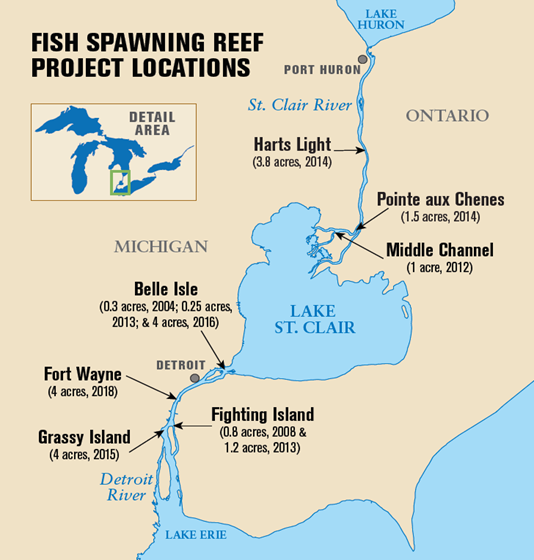 Project Period: 2001 - 2018
Funding:  Recent projects were funded by the Great Lakes Restoration Initiative through the Sustain our Great Lakes Program and the U.S. Geological Survey's Great Lakes Science Center. 
Project Contact
For More Information
Videos
Photos
Recent News Stories