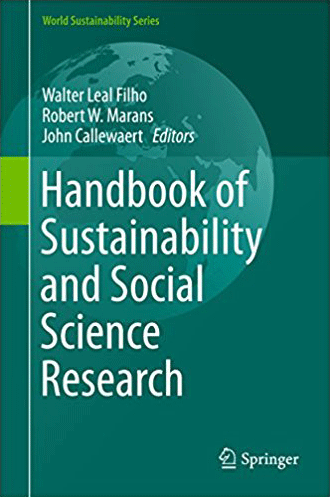 Editors: Walter Leal Filho, Robert W. Marans and John Callewaert
In the new Handbook of Sustainability and Social Science Research (Springer, World Sustainability Series, 2018), researchers and practitioners present and discuss direct observations, case studies, teaching and learning innovations, and applied project results. Readers will find a wide array of ideas and experiences which have influenced behavior, decision-making, or policy.
The book includes chapters by several U-M faculty and graduate students as well as contributors from many other institutions. It was developed through a partnership of the Inter-University Sustainable Development Research Programme (IUSDRP) and U-M (Institute for Social Research and the Graham Sustainability Institute).
Features of the Handbook of Sustainability and Social Science Research:
Introduces approaches and projects to improve understanding of sustainability across social and economic sectors.
Presents researcher efforts across the spectrum of the social science disciplines.
Stimulates innovative thinking on how social sciences influence sustainable development and vice-versa.
The book also includes highlights from the Sustainability and Social Science Research Symposium —hosted at U-M in May of 2017. That event was guided in part by scientific advisory committee which included several U-M faculty members; Arun Agrawal, Raymond De Young and Michaela Zint, School for Environment and Sustainability; Kaitlin Raimi, Ford School of Public Policy; and Kim Wolske, Ross School of Business (now at the University of Chicago).