Reshaping food choice at University of Michigan dining halls to accelerate carbon neutrality
Reshaping food choice at University of Michigan dining halls to accelerate carbon neutrality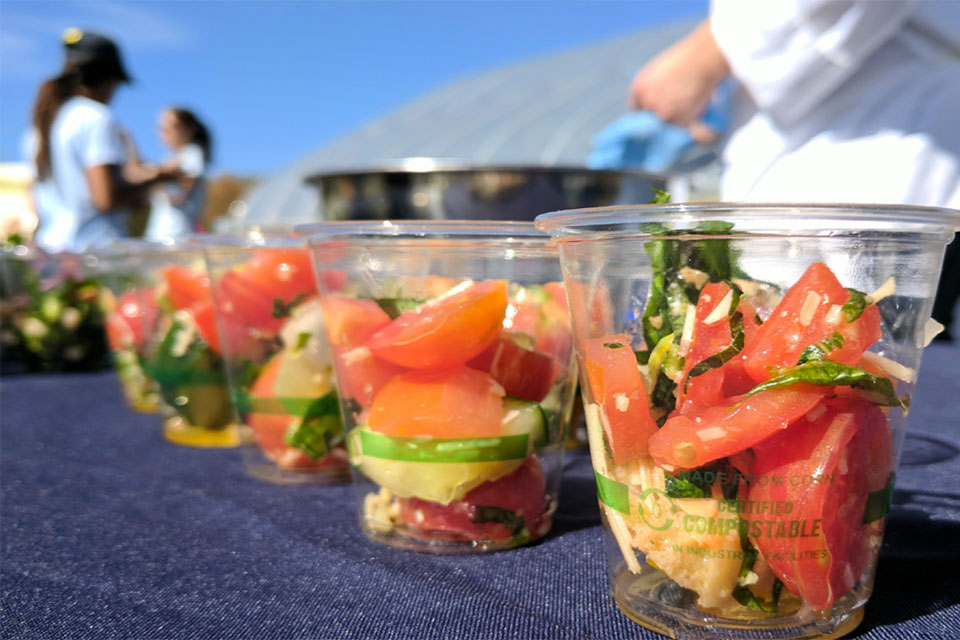 Small shifts to help students eat less meat could bring big reductions in food-related GHGs
Project Team
Andrew Jones, SPH (PI)
Lesli Hoey, Urban Planning
Alex Bryan, Student Life
Steve Mangan, MDining
Keith Soster, MDining
Lindsay Haas, MDining
Frank Turchan, MDining
Project Summary
Individual diets vary vastly in their carbon footprints, and the disparities are driven largely by the relative proportion of animal-source foods. Beef, for example, is responsible for 50 times the emissions per kilogram of field-grown vegetables. Reducing consumption of carbon-intense foods like beef could have transformative impacts on climate change.
Building on prior collaborations, including work on the Food Internal Analysis Team (IAT) for the U-M President's Commission on Carbon Neutrality, this research team will pilot four interventions (behavioral "nudges") in University of Michigan dining halls. Using an experimental design, the objective of the study is to determine the carbon impact of evidence-based behavior change interventions to reduce red meat consumption. These interventions have the potential to lower U-M dining hall emissions significantly without large-scale structural changes or capital investments—and with potential cost savings. The study is expected to generate scalable, replicable solutions for reducing emissions through dietary change at universities regionally and nationally.
Using a cluster-randomized controlled trial, the researchers will assign different dining halls to treatment and control groups. In all, the trial will include six dining halls, 6,000 students, and over 300,000 meals. Over four-week periods, the team will examine the effects of the following interventions: making red meat an opt-in item, changing the physical location of meal stations serving red meat, using different menu descriptions, and offering carbon footprint labels. The extensive data they collect will enable them to measure the precise impact of each intervention on carbon emissions and cost.
This team received a $300,000 CNAP faculty research grant in 2021.