Retrofitting Ann Arbor: The Living Building Challenge
Retrofitting Ann Arbor: The Living Building Challenge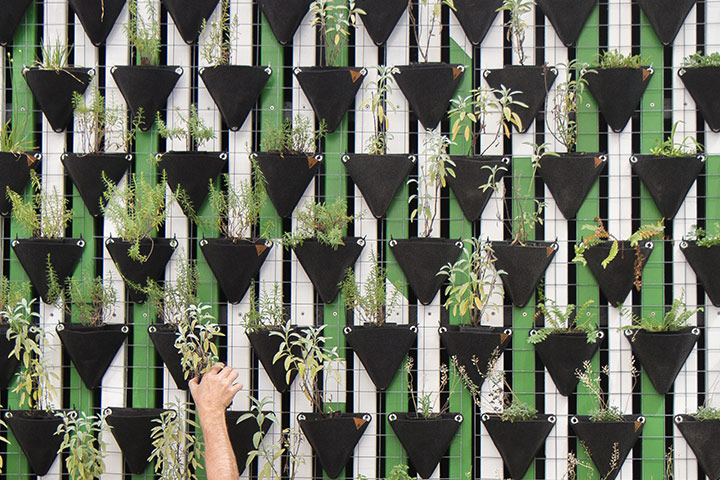 Team Members
Derya Ayral, Devki Desai, Emily Herbert, Alexandro Bazan, Sarang Supekar, Alexander Chow, and faculty advisor Steven Skerlos.
Summary
The average American uses 90 gallons of water per day in their home, compared with the average European who uses 53 gallons, and the average Sub-Saharan citizen who uses only 3-5 gallons (US EPA, 2009). Despite the fact that an abundance of fresh drinking water is delivered to our homes every day, our water infrastructure in the United States is nearing or has exceeded its service life. It is estimated by the American Society of Civil Engineers (ASCE) that 7 billion gallons of water are lost every day in the United States due to leaks. As weaknesses in the infrastructure in the face of ageing and inclement weather also increase likelihood of catastrophic failures, the ASCE gave US water and wastewater infrastructure an average quality of D. Thus as a major retrofit to water infrastructure awaits, we must ask ourselves whether we rebuild as before or whether there may be more resilient options available.
A familiar, critical interface moderating our use of resources such as water are buildings. A variety of building code improvements, standards and challenges have long acknowledged the need for water and energy efficient buildings. Some are prescriptive, encouraging use of best available technology, while others delineate the desired end performance. The latter describes the Living Building Challenge (LBC). According to the challenge, a Living Building should be self-sufficient and self- sustaining upon its site; inhabiting the local energy and water cycles with a net-zero impact upon both.
Partnering with local THRIVE Net-Zero Collaborative and working with the larger UM Living Buildings team, we will explore this question at the site of a 112-year old house in Washtenaw county. The house has achieved net-zero energy status as a result of window and insulation adjustments, geothermal heating, solar panels, and proactive consumption reduction. Well on its way to self-sufficiency, the next challenge is water.
Our group will lead the design of a zero-waste potable rainwater harvesting system with on-site effluent reclamation and treatment. As per the Living Building Challenge, the system will avoid use of ubiquitously employed building materials such as PVC, formaldehyde, lead, and neoprene, known for toxic impacts over their life cycle. The collection system, limited to the site area will seek to seamlessly integrate with existing structures and naturescape. The rainwater purification system will be designed to operate without the use of chlorine, further ensuring non-toxicity. Effluent wastewater from the house will also be treated on-site with large volumes of blackwater regularly produced by homes avoided through use of composting toilets, and engineered wetlands with native vegetation will aid purification of greywater for reuse. The margin of energy within which the system can operate will be dictated by the surplus generated by the solar panels currently on-site. This system will seek to qualify the site for certification under the Living Building Challenge by allowing the home to leave a net-zero impact on the site water cycle, an undertaking never before attempted on an existing, single-family house.
Through building a net-zero home water management system, we also seek to build a community of students, professionals, and neighbors who collaborate on innovative retrofit of their homes and workplaces for meeting the low-impact needs of the coming century. All build events have been and will continue to be open to the public. An ongoing project web page will display real-time energy and water use data at the test house and allow team members to provide sustainable retrofit support for the southeastern Michigan region. Looking further, the page will serve as a home for the community created through this project as we continue to collaboratively develop a toolkit of net-zero design strategies for our local infrastructure.