New Tools Will Promote Justice and Equity in Climate Adaptation Plans
New Tools Will Promote Justice and Equity in Climate Adaptation Plans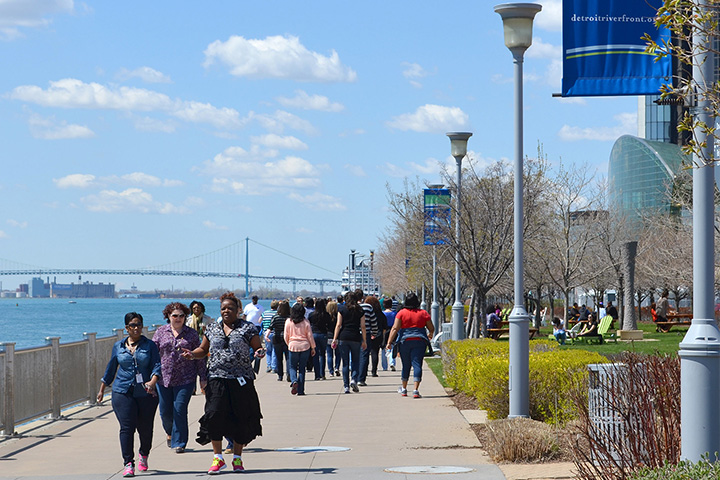 Project Team
Sara Hughes
- U-M School for Environment and Sustainability (SEAS) (PI)
Richard Norton
- U-M Taubman College of Architecture and Urban Planning (TCAUP)
Kirsten Schwartz - UCLA Luskin
Kelly Turner - UCLA Luskin
Joyce Coffee - Climate Resilience Consulting
Madeleine Lane - U-M SEAS
---
Project Summary
Cities nationwide are developing broad, ambitious plans to adapt to climate change, and a growing number have begun to recognize the particular vulnerabilities of low-income and racialized groups. But incorporating justice and equity into their adaptation planning—though critically important—is a challenge: The guidelines, frameworks, and metrics needed for a justice-centered approach are not readily available to practitioners.
To support communities and decision-makers committed to centering racial justice in urban adaptation, this team worked collaboratively with stakeholders to develop an integrated set of decision-making tools and resources available on the Centering Racial Justice In Urban Flood Adaptation project website.
The tools focus on the issue of urban flooding. Racial and spatial segregation in cities generate uneven exposure to current and future urban flood risks and worsen the economic and health consequences of flooding for BIPOC communities. Failing to center racial justice in urban adaptation not only neglects those communities most affected by climate change, but can also produce decisions and investments that exacerbate current inequalities.
Learn more on the project website: Centering Racial Justice in Urban Flood Adaptation: Planning and Evaluation Tools for Decision Makers and Stakeholders
This project received a $10,000 Catalyst Grant in 2020.