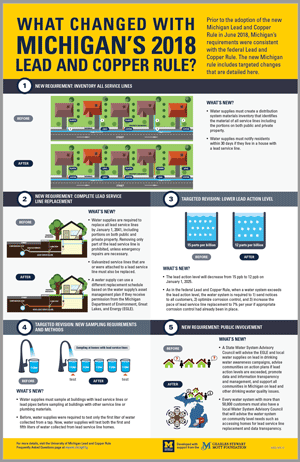 In June 2018, Michigan adopted the country's strictest Lead and Copper Rule (LCR). The purpose of the revised Michigan LCR is to improve public health protection by reducing exposure to lead in drinking water.
This project developed infographics to explain the major changes in the Michigan LCR as well as what you can do to reduce your risk of lead exposure from water in your home.
Major Changes in the Michigan LCR:  The first infographic is a poster size (prints to 11x17 paper) document that presents the five major changes in the Michigan LCR. (Download the tabloid size pdf below).
The second infographic provides more detail, presenting each of the 5 major changes on a page. This infographic explains both the new requirements and why the changes were made. (Download the letter size pdf below)
---
Role of the Advisory Group:  At the project inception, the project team established an advisory group to help better understand the range of issues raised by lead and copper and bring the perspectives of multiple communities and disciplines to the effort. The advisory group included representatives of state agencies, county government and health offices, water supplies, local government and water resource/infrastructure associations, community and neighborhood organizations actively involved in implementing or affected by the lead and copper rule.  See the full list of advisory group members.
Through in-person meetings, periodic conference calls, and individual consultations, the advisory group identified a large list of frequently asked questions and reviewed draft responses to the list, infographics the team designed and other communications material. Although all members of the advisory group had opportunities to comment on project products, such as the FAQ responses, infographics and case studies, the content is solely the responsibility of the project team.  Some of the advisory group members may disagree with some of the final product.