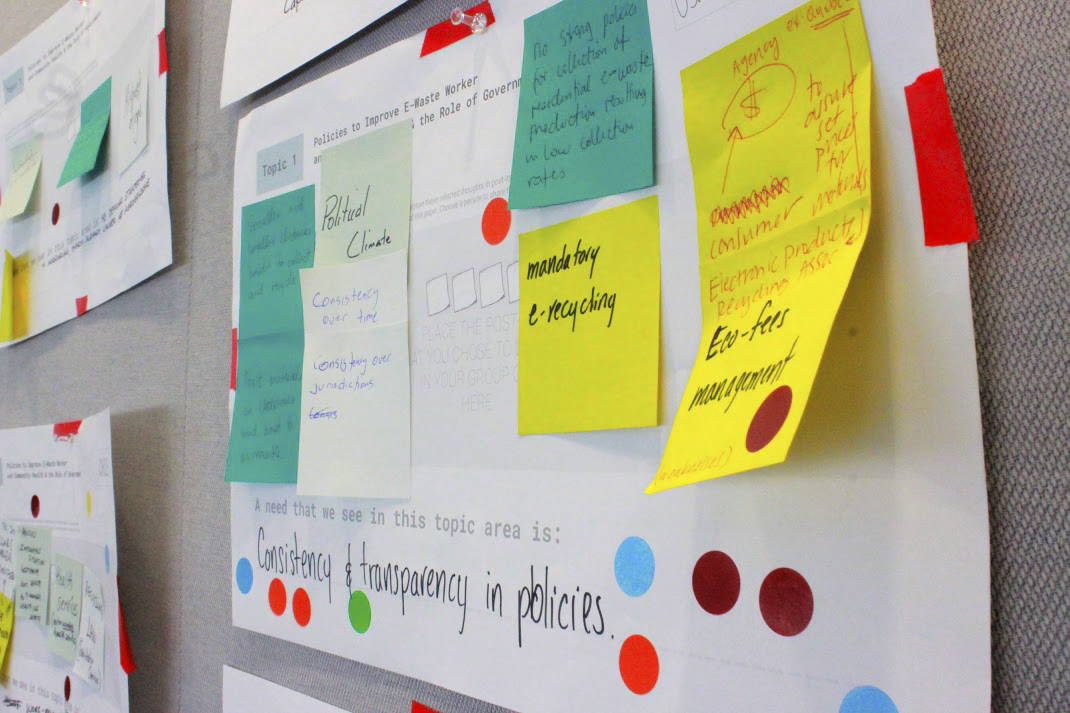 Ann Verhey-Henke is passionate about "creating better translational discourse" to bridge the gap between academic researchers and the rest of the world. At the beginning of this summer, she and her team in the Public Health Innovation Studio helped make that happen at a three-day workshop, Changing Global E-waste Cycle. The workshop was a key component of an ongoing three-year project focused on identifying and mitigating risks associated with the recycling of electronic waste (e-waste).
The project is led by Dr. Rick Neitzel, an Associate Professor in SPH, and is supported by the Graham Sustainability Institute, which provides funding and connections to resources that can expand the impact of the work. In this case, the Graham Institute connected  Neitzel, and his diverse team of e-waste experts with Verhey-Henke to help synthesize, integrate and translate their collective insights into real-world solutions.
Neitzel recalls wanting "an interactive session where people could work together to develop ideas that could actually be acted upon, but I had no idea how to get from point A to point B. Ann and her team worked with us to make sure they understood our goals for the workshop, then took the idea and ran with it," says Neitzel. More than five nationalities, multiple academic disciplines, and non-academic experts gathered to help turn the results of the first two years of Neitzel's project into actionable next steps at the workshop

 "We'd never done anything like this at this scale," Verhey-Henke says. The event was an opportunity to adapt and scale up their methods of helping researchers through the grant and research design processes. Like previous efforts, the event was a rousing success, according to participant feedback surveys.
The importance of process
Verhey-Henke, who has been with the University for over 20 years, has worked in research administration, fundraising and now innovation and design. As Managing Director of the Innovation and Social Entrepreneurship program at the School of Public Health, Ann led the program's Innovation Studio, which worked to bridge the gap between science and practice by developing activities and workshops using integrative design methodologies. These methods lay out clear steps to help scientists take their research insights and extract the "real-world" value and aim to "provide a unique, clear structure to help manage cross-disciplinary boundaries," she says. Her team created a structure explicitly designed to encourage experts from diverse backgrounds–both inside of academia and out–to generate ideas collaboratively and move past initial discussions. In contrast to traditional academic events focused on presenting research, this process "is more deliberate about getting to the 'next steps'—the new collaborations, the new projects," notes Elizabeth Vander Veen, Integrative Designer and graduate of the Masters of Design in Integrative Design program at the Stamps School of Art and Design, who helped design the event.
For the e-waste workshop, the team used "backward design," says Verhey-Henke. They started with the research outcomes Neitzel described—bringing together e-waste researchers and stakeholders to develop solution pathways on both short and long-term timescales—and "then back designed with some very clear core values" to create an event that was uniquely suited to achieving Neitzel's aims, she says.  
Including all voices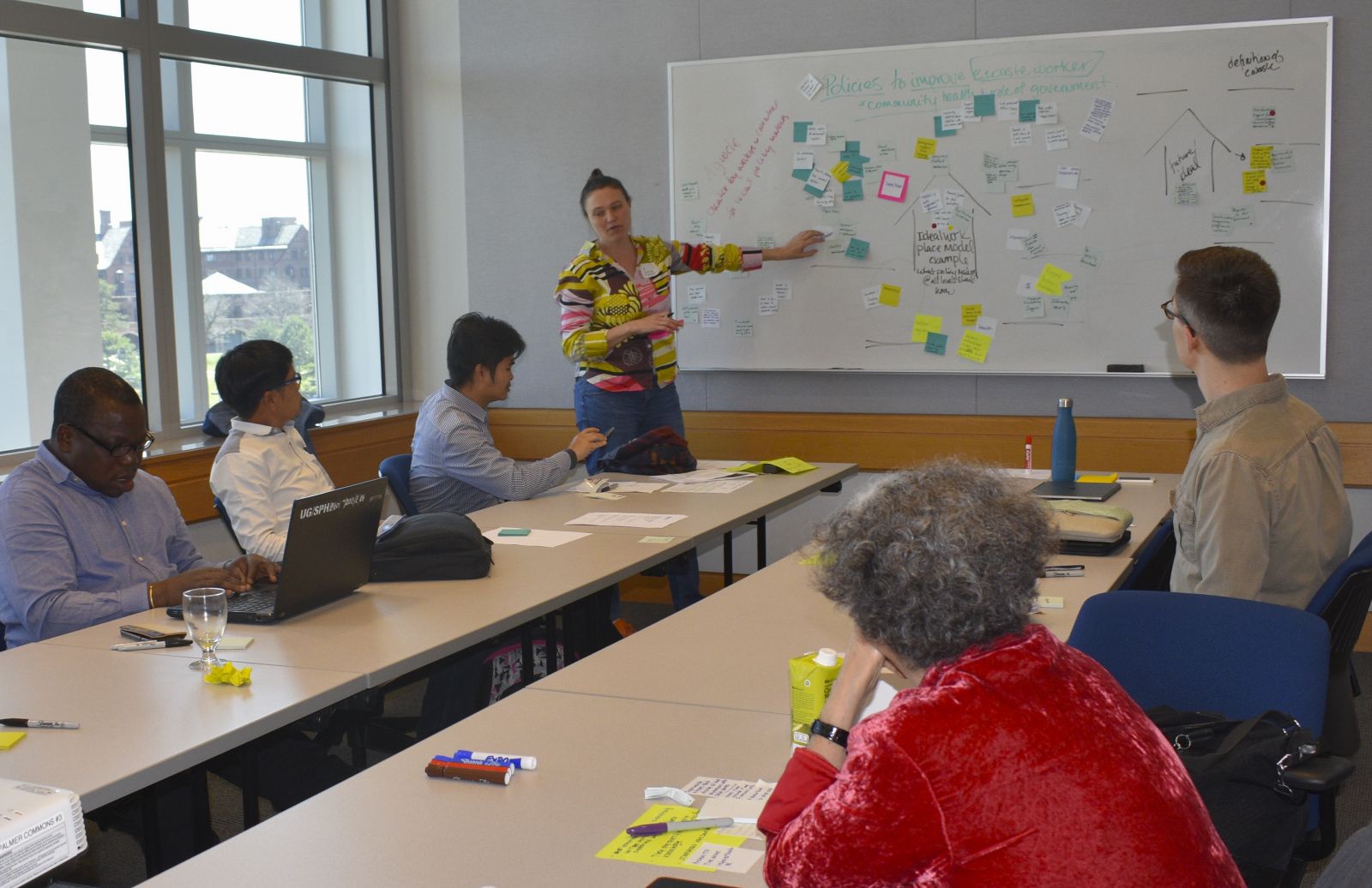 Verhey-Henke and her team worked with Neitzel to put together multimedia workshop reports and resources to keep the participants connected, and the materials are being used by the break-out teams to move forward the ideas they came up with during their three days together.
A significant decision was to ensure that all voices were heard—no matter the native culture, language, discipline, or affiliation. "[The e-waste workshop] was unique in the number of languages spoken, [the] number of countries represented [and the] number of disciplinary backgrounds...it was my dream mix of all these interesting pieces and parts," she says. "We used our methods to help navigate conversations with more structure and process, and to feel connected and accomplished with what came out the other end."  Vander Veen adds, "using a process that is new to everyone helps level the playing field; it creates an open space for all perspectives to be heard."
Verhey-Henke facilitated one of the many workshop break-out groups. She managed dual roles, as an active listener and as a moderator who needed to be able to track the emotional feel of the room and accessibility of the conversation—taking note of who had spoken and who hadn't for instance. Additionally, writing became a critical component of the event. Many activities involved writing down initial ideas on post-it notes, followed by some discussion, then writing down more developed ideas, and so on. The silence of writing helped people think through ideas, and written pieces in Thai or Spanish or French could be translated and captured by colleagues more comfortable with bilingual communication.
Looking ahead
Verhey-Henke plans to repeat and refine the methods, hopefully working with others on the U-M campus to expand the process to more faculty. "I'm really passionate about helping faculty accomplish their goals and have the impact they've dreamed about having but might struggle to find once they're in the academic setting." She believes the university can lead interdisciplinary research facilitation methods. Finessing and expanding new methods to make research more impactful outside of academia will help advance U-M goals of demonstrating the impact of research in communities locally and globally.