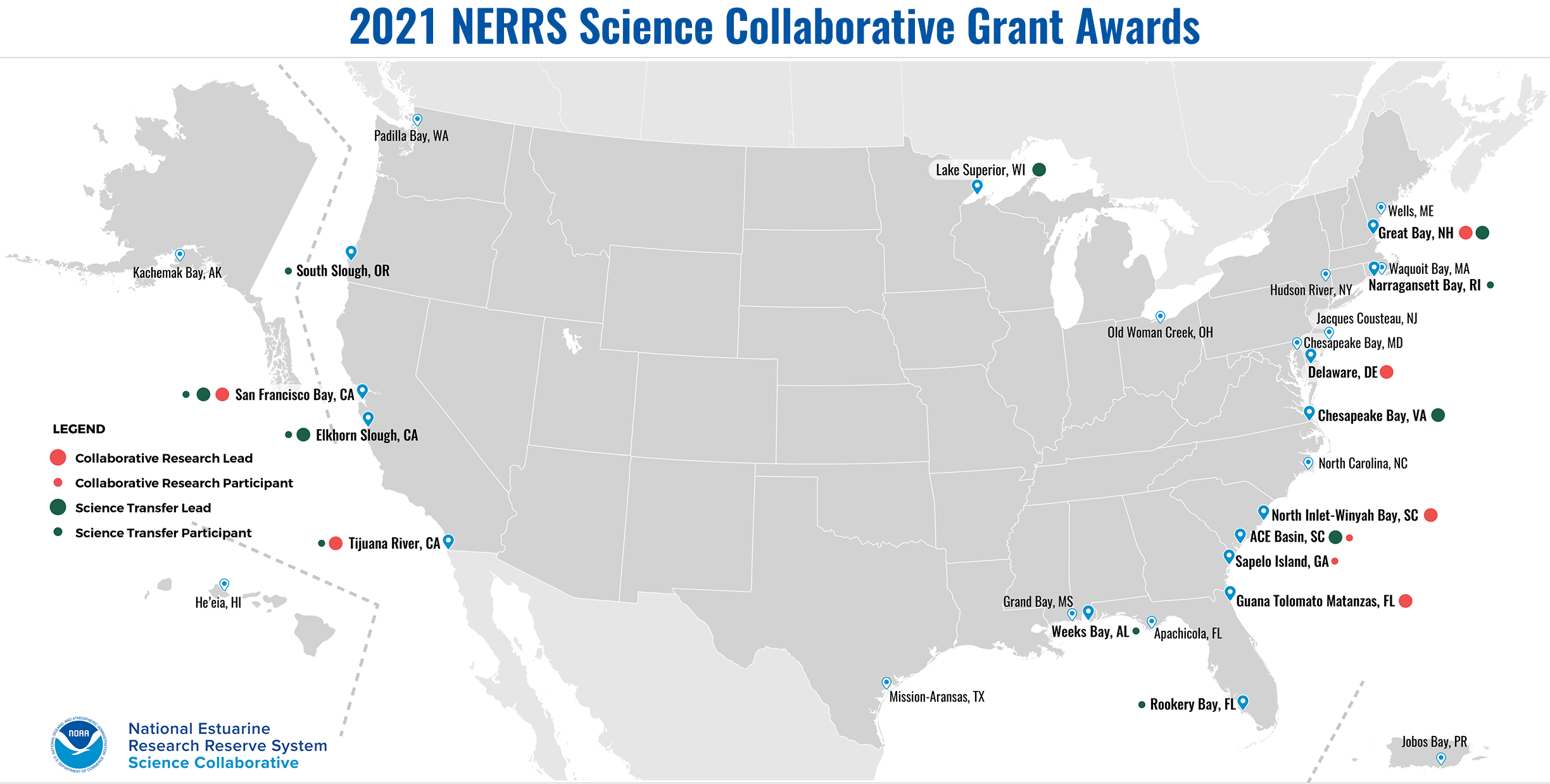 Twelve projects involving 15 reserve sites across the nation and totaling more than $4 million over three years have been recommended for support by NOAA's National Estuarine Research Reserve System (NERRS) Science Collaborative, managed by the University of Michigan Water Center.
This funding cycle's projects fall into two categories: collaborative research and science transfer. Collaborative research projects conduct new applied science through an end user-driven, collaborative process that results in research, data, tools, or other products that will inform decision making related to a reserve management need. Science transfer grants support the transfer of existing information, approaches, and techniques to support reserve activities and programs across all reserve sectors.
The projects recommended for funding will tackle a range of practical, pressing coastal issues, including understanding coastal ecosystem services, flood resilience planning, biofeedback monitoring, and enhancing science literacy, among others. 
"These projects reflect the truly interdisciplinary work of the NERRS, complementing natural science with social science disciplines," said Dr. Jennifer Read, Director of the University of Michigan (U-M) Water Center and coordinator of the NOAA-supported NERRS Science Collaborative. "We are particularly excited to see indigenous partners bringing their knowledge and priorities to several of these projects, allowing teams to integrate social, cultural and even spiritual values into their work. All of the projects reflect a deep commitment to collaborative science, where knowledge, coproduced with end-users, will advance understanding in holistic, user-friendly, high-impact ways."
All Science Collaborative projects integrate decision-makers and other end users to ensure that products address current coastal management issues. Over the course of the project period, teams have access to Science Collaborative support and resources, including experts in collaborative research design and implementation, and data management.
---

2021 NERRS Science Collaborative Grant Awards
COLLABORATIVE RESEARCH
Project Lead and Affiliation
Project Title
Participating Reserve(s)
Robert Dunn,
North Inlet-Winyah Bay NERR
Incorporating Environmental Variability Into Ecosystem-Based Management for Penaeid Shrimp in the Southeast U.S. 
North Inlet-Winyah Bay (SC), ACE Basin (SC), Sapelo Island (GA)
William McDowell,
University of New Hampshire
Resilience and Positive Feedbacks: Water Quality Management and Eelgrass Health in the Great Bay Estuary, NH/ME 
Great Bay (NH)
Luke Miller,
San Diego State University
Habitat Heartbeats: Incorporating Bivalve Biosensors Into Estuary Monitoring Infrastructure to Inform Water Quality Monitoring and Management Decisions
Tijuana River (CA)
Sarah Miller,
Flagler College
From Past to Present: Ecosystem Services and People at the Guana River 
Guana Tolomato Matanzas (FL)
Stuart Siegel,
San Francisco Bay NERR
Respecting the Past, Planning for the Future: Assessing Cultural Resources and Watershed Connectivity Associated with a Proposed China Camp State Park Road Modification Project
San Francisco Bay (CA)
Andrew Wozniak,
University of Delaware
Do Prescribed Burns of Phragmites australis During Salt Marsh Restoration Increase Denitrification and Carbon Sequestration Ecosystem Services? 
Delaware (DE)
 
SCIENCE TRANSFER
Julie Binz,
ACE Basin NERR
Advancing Science Literacy with a System-Wide Monitoring Data Exhibit
ACE Basin (SC), Elkhorn Slough (CA), Tijuana River (CA), South Slough (OR), Rookery Bay (FL), Weeks Bay (AL), Narragansett Bay (RI)
Daniel Brumbaugh,
Elkhorn Slough NERR
Resilient Roads and Reserves: Opportunities for Improving Habitat and Access in California 
Elkhorn Slough (CA), San Francisco Bay (CA), Tijuana River (CA)
Cirse Gonzalez,
Chesapeake Bay Virginia NERR
State of the York: A Holistic Synthesis of Place-Based Data for Informed Decision-Making and Outreach
Chesapeake Bay (VA) 
Maya Hayden,
Point Blue Conservation Science
Planning With Nature: Identifying Opportunities for Nature-Based Coastal Adaptation Strategies Using the Sea-Level Rise Adaptation Framework
San Francisco Bay (CA), Elkhorn Slough (CA)
Karina Heim,
Lake Superior NERR
Greener Shores: Bringing Plant-Scale Knowledge to Shoreline Habitat Practitioners in the Lake Superior Basin
Lake Superior (WI)
Peter Steckler,
The Nature Conservancy
Transferring Conservation Science in New Hampshire's Coastal Watershed
Great Bay (NH)
View/Download as a PDF
 
* These projects have been recommended to NOAA for funding; grant awards are contingent upon the findings of NOAA environmental compliance reviews.
The National Estuarine Research Reserve System's Science Collaborative supports collaborative research that addresses coastal management problems important to the reserves. The Science Collaborative is managed by the University of Michigan's Water Center through a cooperative agreement with the National Oceanic and Atmospheric Administration (NOAA). Funding for the research reserves and this program comes from NOAA. Learn more at nerrssciencecollaborative.org or coast.noaa.gov/nerrs.