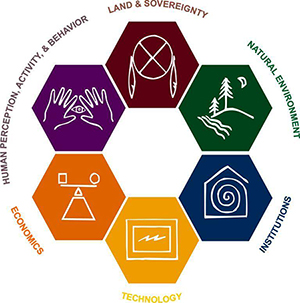 Honoring Tribal Knowledge, Cultures, and Traditions
Incorporating the knowledge and voices of tribal members are integral to understanding sustainability. Indigenous or traditional knowledge includes an extensive understanding of local environments, including oral history, cultural perspectives, and observations of the interrelationship of humans, plants, and animal species and the land, water, and air essential to life.
In light of considerable federal and state resources received, universities owe a great deal to society. This commitment to society along with the emergence of service-learning approaches to teaching, the advancement of community-based research approaches, and resources are of significant benefit to the wider citizenry. Service and engagement activities at U-M involve mutually beneficial partnerships to enrich our teaching and advance our research, to address issues of social justice, to stimulate economic activity, to enhance democracy, or to achieve a range of other possible goals.
Indigenous leaders provide perspectives about sustainability that are critical to improving understanding of the needs of many communities. According to the Bureau of Indian Affairs, more than 56 million acres of land is managed by tribal governments.Rivers, lakes and other natural resources cross tribal, international, public and private boundaries.
The academic community is in a good position to facilitate partnerships across many sectors. Research partnerships can be the point of intersection between educational practices and developments in multiple disciplines, an intersection that leads to productive public scholarship.Examples of tribal partner engagement include involvement on collaborative research teams that co-produce knowledge, participating in community-based student-led fieldwork projects; serving as members of U-M Advisory Boards; and as expert speakers for sustainability events on campus.
Through the activities it manages, the Graham Institute supports faculty and students seeking a greater understanding of indigenous values, knowledge, and perspectives, and incorporating them into sustainability science and outreach. Tribal partners contribute to a richer understanding of the intersection of critical sustainability topics and healthy communities, such as the impact of changes in water and air temperature on fish and plant species.
Assessing and Communicating Risk
Addressing the needs of indigenous communities and advancing the field of sustainability includes providing information about changes in air and water temperature, fluctuating Great Lakes water levels and public health impacts of extreme heat. Using information (historical and future projections) to assess the risk to culturally significant species, such as black ash and wild rice, and threats to economic assets such as tribal forests and fisheries can inform planning efforts focused on adapting to risks.
Examples:
Tribal Leaders Contribute Expertise
U-M faculty are actively inviting Tribal members interested in gathering and sharing stories about the progress and challenges of environmental changes to participate in events. Seminars and panels are opportunities to provide a more holistic perspective of sustainability science and engagement. One example is the Heritage Seed project meetings. During the event hosted by the MBGNA and LSA, U-M leaders incorporated traditional practices (seating arranged in a talking circle and a smudging ceremony to open the meeting) and ensured that tribal participants were at the center of activities and discussions.
Examples:
Community-based participatory research is crucial to building knowledge and producing benefits for faculty, students, and communities.Preparing students for a global society is in alignment with the university's commitment to diversity and our belief that the encounter with diverse people, experiences, and perspectives is critical to intellectual development and progress.
Learn More:
Note: *See additional information about the model, Sustainable development education, practice, and research: an indigenous model of sustainable development at the College of Menominee Nation, Keshena, WI, USA