Addressing Risks to Property and Nature on the Shores of the Great Lakes
Addressing Risks to Property and Nature on the Shores of the Great Lakes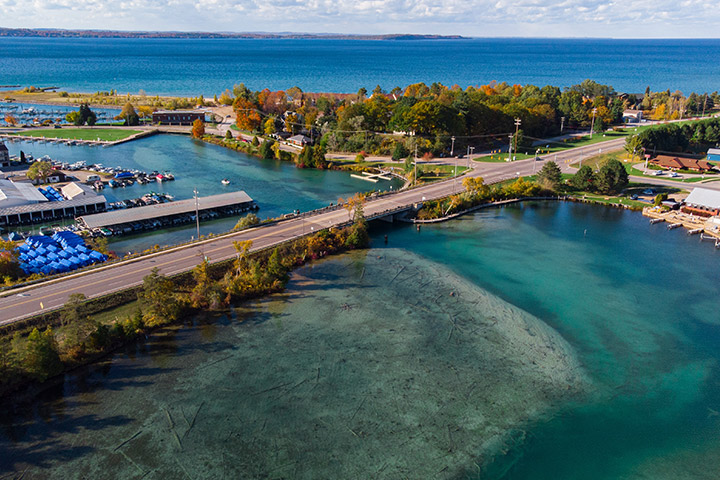 (This project is currently underway)
Project Team
Richard K. Norton—U-M Taubman College of Architecture and Urban Planning (PI)
Kyle Logue—U-M Law School (Co-I)
Steven Mankouche—U-M Taubman College of Architecture and Urban Planning (Co-I)
Jono Sturt—U-M Taubman College of Architecture and Urban Planning (Co-I)
Erin Bunting—Michigan State University
Ethan Theuerkauf—Michigan State University
Guy Meadows—Michigan Technological University
---
Project Summary
Coastal development is threatening Great Lakes shores and beaches. People have a strong desire to live as close as they can to the shores of the Great Lakes, generating an equally strong demand for shoreline property development. Yet, increasingly, coastal development on the Great Lakes both degrades the shoreline and puts developed properties at risk from storm impacts, natural lake level fluctuations, and shoreline recession.
Too often, the human response is to install seawalls, revetments, and other structures. These attempts to outmatch nature are not ecologically, socially, or economically sustainable. Instead, to inform better management decisions, a more robust understanding of the complex dynamics of shoreline property development is needed. Considerable scholarly work has begun to fill this knowledge gap, but the work to date has not yet accounted expressly for long-term Great Lakes shoreline recession, addressed how insurance programs and policies specifically in the Great Lakes might be influencing individual property development decisions, queried whether the design of structures in high-hazard coastal settings might be improved to reduce their vulnerabilities, or evaluated whether and how Great Lakes coastal community planning efforts are addressing these interrelated questions.
This project brings together the academic disciplines of coastal geomorphology, insurance law, architecture, and urban planning, all collaborating actively with six different end users, including the Michigan Sea Grant Program, several local government associations, and insurance industry representatives. The project will produce informational materials that end-users can share with their constituents, including summaries and syntheses from literature, preliminary findings from empirical investigations, and an action plan to extend the work and secure additional funding.