Alley Activation as a Practical Neighborhood Sustainability Strategy
Alley Activation as a Practical Neighborhood Sustainability Strategy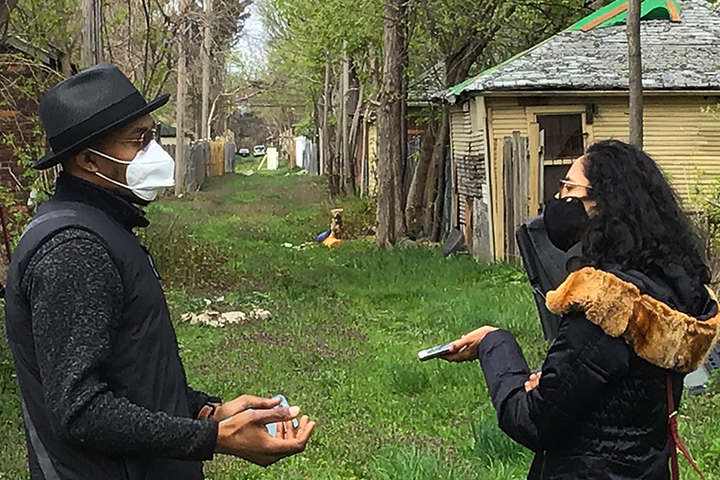 Project team
Paul Draus — U-M Dearborn Sociology (PI)
Christopher Pannier— U-M Dearborn Mechanical Engineering
Jacob Napieralski — U-M Dearborn Geology
Korey Batey —DAVIS (Detroit Ain't Violent It's Safe)
Carlos Nielbock —CAN Art Handworks
Charles Rivers — The Neighborhood Association
---
Project Summary
In 2020, Detroit began investing in the large-scale clearance of debris-ridden, overgrown alleys, once used for trash pickup and utilities but decommissioned decades ago. In exchange for a one-time alley-clearing service, the city has asked neighborhood block clubs to create ongoing alley maintenance plans. This project will investigate how the newly functional alleys might be "plugged in" to surrounding neighborhoods in ways that reflect local history, current needs, and multiple sustainability goals.
The researchers' prior work with residents generated a host of ideas, from enhancing access to recreational green space to providing valuable green infrastructure and creating safe sites for entrepreneurship, product delivery, and social gatherings. This project will enable the implementation of a proof-of-concept pilot that integrates several of these ideas to produce a working model of a net-zero alley that is also a neighborhood-owned oasis. The work is designed to aid decision-makers by showcasing appropriate technology in context and serving as a model for other neighborhoods across the city.
The researchers—two of whom are longtime collaborators—will apply their prior learnings to this "alley activation" project, including the design of an off-grid clean energy source made from upcycled materials, which stems from a previous catalyst grant project. The team will rely heavily on its well-established network of community partners to meet real neighborhood needs and encourage long-term uptake and upkeep.
Interactive Map: Detroit Alley Activation
News:
For more details, read the final project report (PDF).