African Solar Electric Trailer (e-Trailer)
African Solar Electric Trailer (e-Trailer)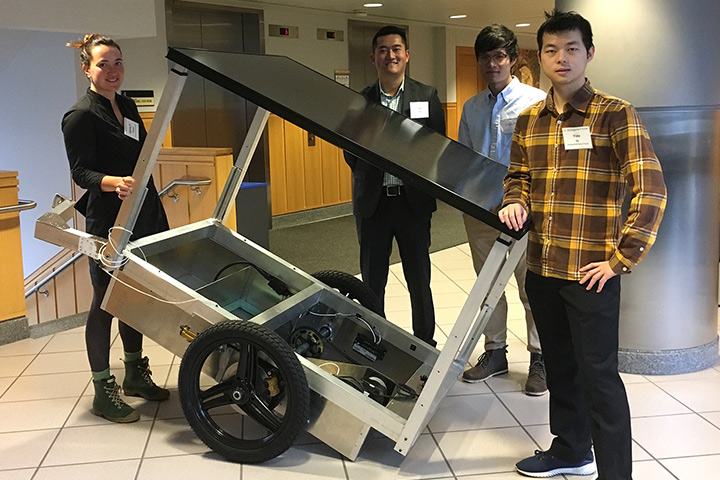 This team demonstrated that solar-powered electric vehicles could assist rural residents in sub-Saharan Africa and other developing regions of the world. The team developed a prototype for a solar bicycle electric trailer designed to carry food, wood, fertilizer and other goods. The trailer also has the additional benefit of providing cell phone charging and nighttime lighting to rural villages. Furthermore, the team will define a sustainable business model for manufacturing, distributing, and leasing such vehicles in villages and cities in Ghana.
The additional $30K will support project efforts to conduct road tests of the solar-powered vehicle, implement a smartphone app to assist riders, complete the design and build another prototype tailored for use in urban Ghana. The team will also quantify the environmental benefit of the solar mini electric vehicles and raise additional funds to perform tests in Accra, Ghana. Pratt & Miller Engineering (Lyon, Michigan) designed and manufactured the first prototype and will continue to work in partnership with the student team.
To foster high-impact sustainability collaborations across U-M, Dow Distinguished Awards for Sustainability supports applied sustainability projects across all disciplines and includes students at all academic levels. Projects are student-led, faculty advised, and action-oriented, outlining a new product, service, or project to protect the environment and enhance the quality of life for present and future generations. Projects span the full breadth of sustainability topics, including but not limited to energy, water, communities, food, built environment, transportation, etc. The Distinguished Awards is part of the Dow Sustainability Fellows Program at the University of Michigan, supported by The Dow Chemical Company Foundation.