Building Community-based Research Capacity to Investigate Vulnerability and Adaptive Capacity in Coastal Ecuador
Building Community-based Research Capacity to Investigate Vulnerability and Adaptive Capacity in Coastal Ecuador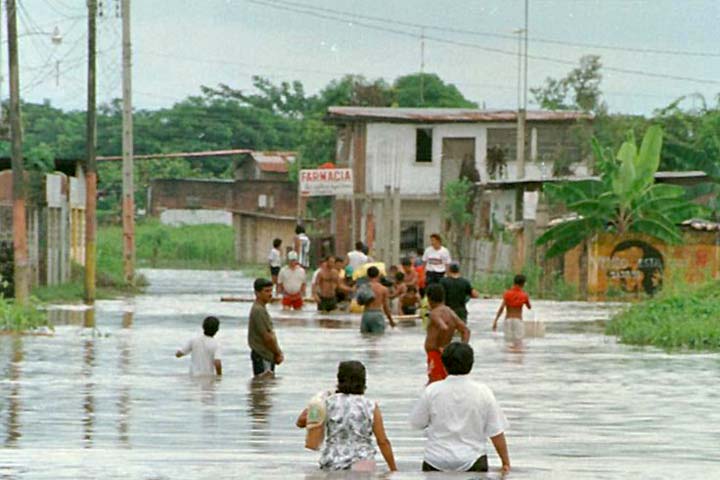 Project Team
Betty Corozo - Universidad Técnica de Luis Vargas Torres
James Trostle - Trinity College
Ivan Cangemi - U-M School of Public Health
Gwenyth Lee - U-M School of Public Health
Project Summary
The coast of Ecuador is experiencing increasingly dramatic and unpredictable patterns of flooding and drought, and these trends threaten the socioeconomic stability and health of communities in the region. In response, this project aimed to foster regional institutional capacity to engage these vulnerable communities in the process of identifying priorities and devising adaptation strategies to confront the repercussions of climate change. Specifically, the team collaborated with the Universidad Técnica Luis Vargas Torres de Esmeraldas (UTELVT) to develop expertise and protocols for community-based, participatory environmental research.
The project included:
a workshop for UTELVT faculty and undergraduate students on participatory action research methods,
a pilot participatory risk assessment of three recently flooded communities in the region conducted collaboration with UTELVT and student research assistants to inform the development of flood-control strategies, and
broader dissemination of the pilot study and training results through a meeting with stakeholders, including representatives of the provincial government, non-governmental organizations working in the region, and faculty from other Ecuadorian universities.
An integral outcome of this project was to strengthen local institutional capacity to conduct collaborative research aimed at exploring and addressing the impacts of climate change on local communities in the Esmeralda's providence. The team continues to explore options for sustained UTELVT training for faculty and students and additional collaborations between the University of Michigan, UTELVT, and local stakeholders.
This project received a $10,000 Catalyst Grant in 2017.