A baseline and standardized method for monitoring the treatment and control of invasive Phragmites australis in the Great Lakes
A baseline and standardized method for monitoring the treatment and control of invasive Phragmites australis in the Great Lakes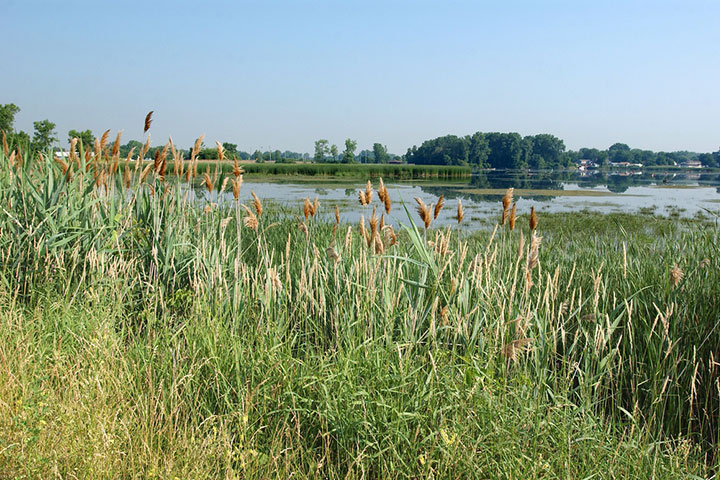 Investigators
Laura Bourgeau-Chavez, Michigan Tech Research Institute
Colin Brooks, Michigan Tech Research Institute
Jason Carlson, Applied Ecological Services
Additional Core Team Members
Michigan Tech Research Institute: Anthony Landon, Amanda Grimm, Zach Laubach
Applied Ecological Services: Steve Apfelbaum, Michael McGraw
Project Summary
Phragmites australis is an aggressive invasive species that contributes to the degradation of overall wetland quality and ecosystem services in the Great Lakes. Significant resources are expended on its control but assessments of treatment activities, particularly at the landscape scale and with regard to native vegetation recovery, are often lacking. The purpose of this study is to develop a standardized method for monitoring the effectiveness of herbicide spraying as a management technique for controlling Phragmites australis.
This project will evaluate the effectiveness of past herbicide treatments on Phragmites and the post-treatment restoration response of natural vegetation and faunal biodiversity in two study areas: Green Bay and Saginaw Bay. Treatment effectiveness will be assessed in a nested scaling design, from field surveys to high resolution aerial imagery to moderate resolution satellite imagery. A comparison will be made of pre-treatment Phragmites distribution maps of the U.S. coastal Great Lakes (circa 2008-2010) with post-treatment imagery and field surveys collected by the project team. Aerial imagery will be interpreted and classified for Phragmites identification, effectiveness of herbicide treatment, and restored wetland function. Standardized biodiversity sampling protocols currently used by the Great Lakes Instrumentation Collaboratory will be used for continuity. Cost-efficient monitoring methods will be developed for satellite-based Landsat 8 and/or PALSAR-2 imagery, crosswalked with airborne high resolution multispectral imagery.
This project will fill a current knowledge gap regarding the effectiveness of herbicide treatment on the restoration of native wetlands. This information will be invaluable for assessment of the current typical management approaches (herbicide, burning or cutting) and the development of future management approaches. It will also provide novel analysis of post-treatment recovery of wetland ecosystems in the coastal Great Lakes by placing wetland response into the context of the greater regional landscape.