Tuesday, December 12, 2017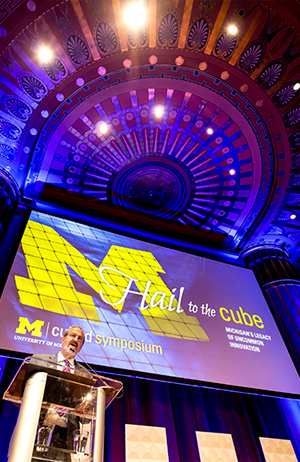 There are a number of reasons researchers may struggle to secure funding. Some research may be high risk, it may explore an unusual topic or an effort that is happening in real-time, it may be interdisciplinary, or maybe project efforts are led by junior faculty with limited experience leading sponsored projects. Researchers tackling sustainability issues often contend with these challenges, making MCubed, a research funding program, an ideal source of support for University of Michigan (U-M) faculty.
MCubed, housed in the U-M Office for Research, supports interdisciplinary, faculty-led research projects, with at least three faculty from two or more different academic units required to create a team or "cube." Research teams use funding "tokens" (financial support comes from the Provost's Office, the researcher's unit, and researcher's own funding) to form either a $15,000  "mini cube," or $60,000  "classic cube" with no proposal review other than a shared interest in working together by the researchers. This type of institutional support for faculty creates building blocks for additional collaborative and interdisciplinary research and provides a foundation to successfully secure larger projects supported by external sponsors (NSF, NIH, USGS, etc.), foundations, non-profit organizations, or others. To date, 487 cubes have been funded and $60 M in external funding has been leveraged by U-M faculty.
MCubed 2.0
Currently in its second cycle, MCubed 2.0 includes over twenty-five groups working to address sustainability challenges, and more than 200 total cubes. Several of these sustainability-focused project groups have links to the Graham Sustainability Institute, which facilitates interdisciplinary and collaborative sustainability science linked to real-world action.
Three MCubed projects received $10,000 in additional support through the Graham Institute's sustainability block funding, distributed to MCubed Blocks of at least three sustainability-focused cubes centered around a common theme. Marie O'Neill (Public Health faculty), Ming Xu (Environment and Sustainability faculty) and Johanna Mathieu (Engineering faculty), linked their collaborative MCubed projects to focus on urban sustainability through maternal health, the food-water-energy nexus, and energy efficiency. The additional support from Graham was used to explore current and future synergies and interdisciplinary work, host extra group meetings, and support U-M students. For a full listing, go to the Sustainability Block.
Faculty Cubes
Paige Fischer (Environment and Sustainability) received a catalyst grant from the Graham Institute for research aligned with her MCubed project, Understanding Human Adaptations to Climate Change in Forest Ecosystems. Another cube exploring public health and policy in relation to electronic waste recycling is leveraging the E-Waste Recycling project supported by Graham, a collaboration with Thai researchers and policy makers, led by Richard Neitzel (Public Health). Neitzel's MCubed project expands the research effort to South America. Andrew Jones (Public Health) is also building connections between his MCubed project on nutritional conditions and food impact, and a recently funded Graham transformation grant on sustainable diets.
In addition to the projects led by faculty described above, MCubed 2.0 is supporting 19 other sustainability-focused teams. The work of these teams ranges in topic from an educational initiative to teaching oceanography in Sub-Saharan Africa, studies examining neighborhood health impacts or modeling soot formation, and examining atmospheric deposition of phosphorous in the Great Lakes.
For the next MCubed cycle (Fall 2018) the Graham Institute is considering an incentive program to provide a limited amount of need-based funding for U-M faculty to support the formation of cubes focused on sustainability challenges. More information will be shared on the revised program later this semester.
Additional Opportunities
The MCubed sustainability block funding is part of the Graham Institute's efforts to support sustainability research across U-M, which includes three additional grant opportunities:
Transformation Grants: Up to $100,000 per year for one to two years for collaborative, interdisciplinary projects;
Catalyst Grants: Up to $10,000 over eight months to support short-term, small-scale, collaborative activities (e.g., conferences, planning, white papers, workshops); and
Fast Track Grants: Up to $2,500 per grant over four months to support work of early-stage investigators from units with limited support.
Learn More