The Graham Sustainability Institute's Carbon Neutrality Acceleration Program offers support for all faculty across the University of Michigan to pursue innovative and actionable carbon neutrality research. Through novel collaborations across disciplines and with partners poised to advance net zero strategies, we seek to amplify and expand the university's research impact and fuel the breakthroughs needed to combat climate change.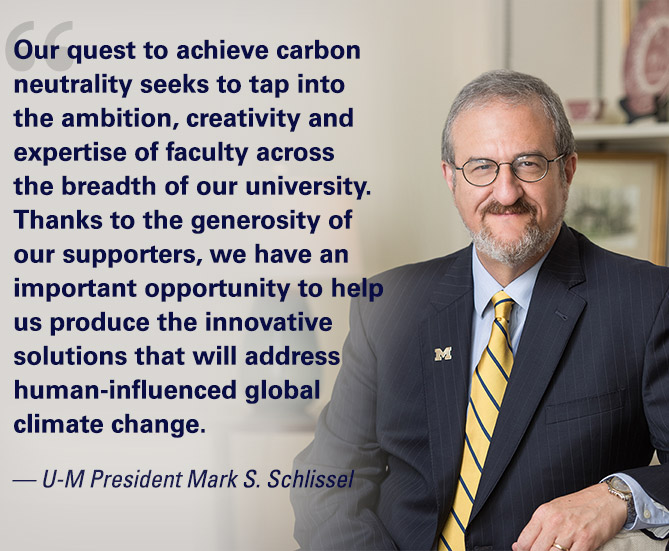 Every scholar at U-M has a role to play in the Carbon Neutrality Acceleration Program. The climate crisis will not be solved without widespread, cross-disciplinary participation.
Big ideas deserve meaningful support. In addition to providing significant grants, the program gives U-M researchers the administrative and programmatic help they need to achieve maximum impact through their work.
Now is the time to share your biggest dreams and best ideas. Your needs—and the opportunities you identify—will shape the program's future.
Big Ideas, Scalable Solutions
Faculty can secure grants of up to $300,000 for projects ranging from proof-of-concept work to large-scale implementation of previously piloted research.
Meaningful Support, New Connections
Researchers get the support they need to maximize the impact of their work. Special program elements are designed to promote connections among researchers and stakeholders.
A Top Priority, Globally and Locally
This program aims to amplify local to global carbon neutrality efforts—from the U-M President's Commission on Carbon Neutrality to the UN Framework Convention on Climate Change.