The Water@Michigan Collaborative acts as a gathering table for communities, the large university water network, and its existing external partnerships. The Collaborative is supported by a diverse Steering Committee, with connections across university units and initiatives, as well as external organizations engaged in community-centered work.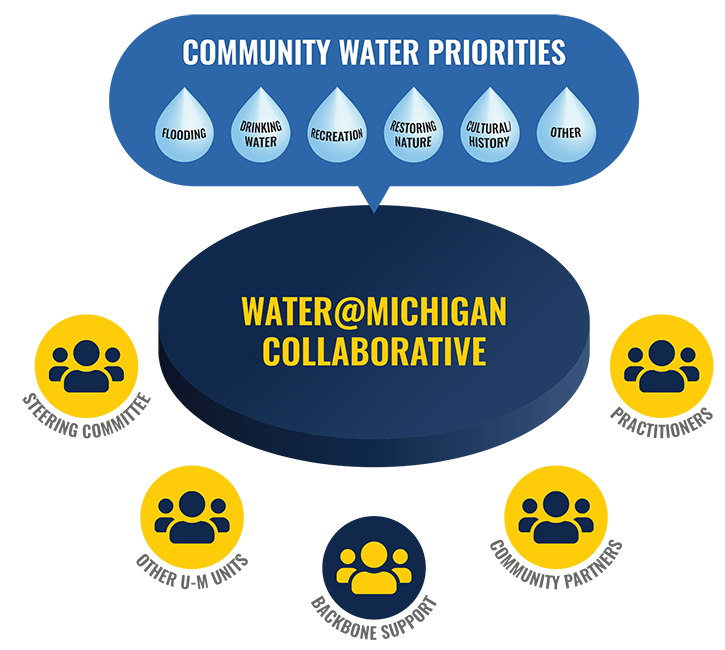 U-M Water Center
The Water Center serves as the hub for the W@M Collaborative and maintains the connections generated through the process over time.
School for Environment and Sustainability
In the W@M Collaborative, the school serves as the catalyst for generating research and education sustainability efforts across campus.
Edward Ginsberg Center
In the W@M Collaborative, Ginsberg provides critical training to university faculty and students on how to appropriately and effectively engage with communities.
---
Principle of Recognition for the expertise and knowledge within the community.
Every community possesses its own set of expertise, skills, leadership, and knowledge. We value a collaborative approach to addressing partner priorities that begins with the partners sharing their perspectives, knowledge, and expertise in identifying solutions. 
Principle of Respect for individuals, communities, and their resources.
We will work to minimize the demand on community participants and find campus partners who bring useful contributions to the effort when community partners commit their time to a collaborative effort.
Principle of Equitable Partnership focuses on reciprocal relationships, transparency, and accountability.
We aim to build partnerships of trust, transparency, understanding, and mutual benefit.
These principles are drawn from Engaged Michigan, a partnership between the U-M Provost Office and Michigan News answering the call to tackle 21st Century challenges by providing U-M students with the 21st Century tools they will need for success, such as for successful community engagement. The principles were discussed at Council for Civic Engagement, the Provost's Office council that serves as a UM-wide platform for discussion of civic engagement in scholarship and learning.