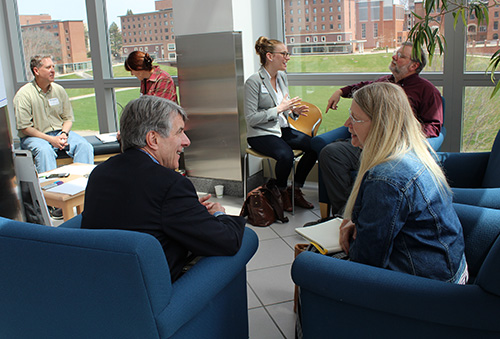 Researchers from across the University of Michigan will join with community members, practitioners, decision-makers and funders from the region, for a day of exploring new collaborations addressing urban water issues. The fourth annual Water@Michigan event will be held on Monday, May 6 at Palmer Commons (UM, Ann Arbor campus). 
This year we will be exploring Urban Water. Urban Water cuts across a broad set of subjects: physical and engineered systems (e.g., watersheds, rivers, and wetlands; infrastructure; stormwater), biological (e.g., communities, diversity, resilience), social and behavioral (e.g., justice, values, knowledge systems), humanities (e.g., history, literature, visual arts), and emerging topics (e.g., socio-ecological systems, co-governance, and transformation).
Welcome Keynote: Jennifer Haverkamp, Graham Family Director, U-M Graham Sustainability Institute
Lunch Speaker: Anna Clark, author of The Poisoned City and A Detroit Anthology
Closing Keynote: Sara Hughes, scholar of water politics and policy in Great Lakes cities, joining SEAS faculty in September 2019
Water@Michigan 2019 will feature presentations, lightning talks, panels, and structured and unstructured networking opportunities.
We encourage you to submit a lightning talk (5-minute presentation) idea that highlights your collaborative work with practitioners or researchers. For those of you who have a great idea, or want to dig into an issue but aren't yet sure who to work with, consider bringing a poster that describes the question you are addressing or your project idea – there will be networking time around posters to help find potential partners.  
Funding:
A Water@Michigan collaborative research fund has been created to move collaboration forward between researchers and practitioners coming out of Water@Michigan.  On May 6 we will be updated on progress from 2018 projects and hope to inspire a new set of 2019 projects.
We also have travel support and stipends for community members.
We hope to see you May 6!