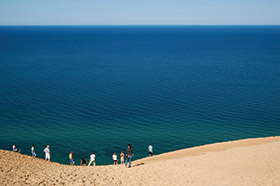 Since establishment in the fall of 2012, the U-M Water Center has awarded more than $5.7 million to support freshwater research, including restoration efforts across the Great Lakes region ($4.2M) and on-campus freshwater research capacity ($1.5M). These numbers are only the tip of the iceberg; there is more to share about the U-M Water Center approach and what has been a whirlwind first year and a half.
Tremendous freshwater expertise spanning many sectors and disciplines is being applied to manage freshwater ecosystems and carry out critical restoration and protection work throughout the Great Lakes and beyond. Major challenges to these efforts, however, exist, many of which are communications challenges. These include connecting similar efforts, sharing lessons learned, understanding regional and cumulative effects, and identifying and filling priority knowledge gaps. Additionally, these efforts must demonstrate progress and success within relatively brief time frames, often associated with significant financial investments in restoration and protection.
The Water Center has been working to help address these challenges. At the heart of our approach is a commitment to help freshwater researchers and practitioners connect, share, and collaborate. This aids in problem definition, sharing of lessons learned, identification of opportunities and challenges, relationship building, and the development and transfer of knowledge for practical application. Our approach thus far has focused on convening diverse freshwater expertise for input and guidance, facilitating connections across disciplines and sectors, supporting translational research that integrates end-users and has practical applications, and increasing capacity to do freshwater research in the Great Lakes basin.
For example, both of our RFP processes engaged the input of numerous technical experts and practitioners in project review, selection, and refinement. Applicants were required to leverage existing freshwater work and engage end users. We encouraged applications from diverse disciplines and organized opportunities to facilitate discussions and connections across disciplines and sectors. As a result, Water Center projects are more than technically sound. They are connected to pressing freshwater issues and ongoing efforts to address them, range in scope from local to regional, and many are designed to not only help fill but identify remaining knowledge gaps. Project teams represent numerous academic institutions from throughout the Great Lakes region and are multidisciplinary and/or multi-sector. Since awards were made, we have helped project teams connect with one another and potential end users of their research by convening them at kickoff meetings and workshops and through our hands-on approach to project management. (Read more about some of our funded projects in the Featured Projects section.)
With supported projects fully underway, we are also laying the groundwork to empirically assess project progress and impact, specifically with regard to end user engagement and practical outcomes. This kind of assessment is not only important from a funder's perspective but also in setting examples for project-level evaluations that help demonstrate the impact of applied freshwater research. (Read more about this evaluation process)
We look forward to the months ahead as projects continue to progress, engage end users, and connect with regional efforts and as our projects evaluation gets underway. Look for updates on all of these fronts in the next issue of Freshwater Features.