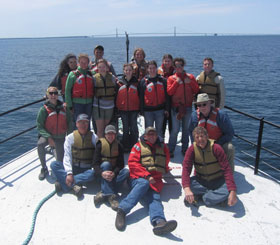 You may already know about the University of Michigan (U-M) Water Center's work in engaging researchers, practitioners, and decision makers in freshwater restoration and protection efforts. But did you know that the Center has also partnered with the U-M Biological Station to offer field-based Great Lakes Oceanography courses, both as a two-credit course for students and as a non-credit enrichment program for non-students?
In Spring 2014, the U-M Water Center and Biological Station collaborated for the second consecutive year to offer a course titled "
Field Methods in Great Lakes Oceanography
." The course was based and administered by the Biological Station and taught by research scientists from the Water Center. The majority of the class time was spent sampling in northern Lake Huron aboard a NOAA research vesel, and participants gave the course rave reviews.
Later this summer (August 20-24, 2014), the Water Center and Biological Station will provide a consolidated, five-day adult-education version of the Great Lakes Oceanography course for non-students as part of the Biological Station's
Mini-Course Program
.
Related Links: