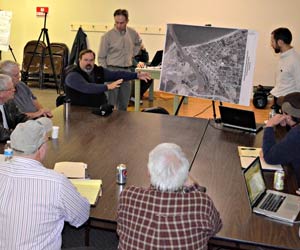 On March 31, 2017, with colleagues from Michigan State University, Michigan Technological University, and Saginaw Valley State University, the U-M Water Center led a workshop on building and sustaining state-university partnerships for the state quality of life (QoL) agencies. Researchers and practitioners from successful State of Michigan-university partnerships with all three QoL agencies (Environmental Quality, Natural Resources and Agriculture and Rural Development) presented case studies allowing participants to tease out lessons for building and sustaining this type of partnership. Lessons from this effort were combined with others gathered by the Water Center. Based on the experience facilitating collaborative research partnerships, the Water Center created the following list of principles:
Plan together from the start.
Build relationships. Take time to get to know each other and understand each other's interests, mission, resources, constraints and workplace culture. As a partnership develops, learn your partners' favorite beer and the names of their children. (Only partly tongue-in-cheek!) Maintain purposeful communication to keep up momentum.
Find mutual benefits. Look for areas where missions and interests overlap. Benefits for each party are most likely quite different, so determine what your partner wants to get out of a project.
Start small and build gradually. Time and resources will always be limited. Be creative about funding and celebrate small successes on the way to bigger ones.
Develop distinct and appropriate roles. Align roles with personal expertise and institutional capacity. Identify and foster a champion to help coordinate efforts and provide a backbone of support.
Be flexible. Challenges are inevitable. Be candid about limitations and resources and look for creative solutions.
Learn More
Three case studies presented at the workshop: