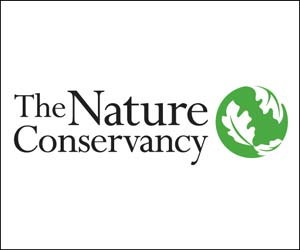 "It's not just about the work The Nature Conservancy does; it's what we can help others do. The success of our work relies upon collaborations with valued partners, including U of M faculty, staff and students." – Dr. Patrick Doran, Associate State Director, The Nature Conservancy's Michigan Chapter
Mission and Program Areas
The Nature Conservancy (TNC) is a leading conservation organization working in 70 countries around the world and all 50 states. Its mission is to conserve the lands and waters upon which all life depends. The vision is a world where the diversity of nature thrives, and people act to conserve nature for its own sake, as well as its ability to fulfill our needs and enrich our lives.
To protect and restore Michigan's natural systems, TNC is using a multi-faceted approach that includes developing broad, innovative strategies that can be applied across large natural systems. TNC works on agriculture and freshwater, urban conservation, coastal restoration and management, sustainable forest management, aquatic invasive species, climate change, and natural areas management. It also focuses on public policies that impact natural resource management, all work that is grounded in scientific evidence.
More information: www.nature.org/michigan 
Past Research Partnerships
The Nature Conservancy has partnered with U-M researchers on some diverse projects, such as:
Great Lakes Environmental Assessment and Mapping – several Conservancy staff (Dr. Patrick Doran, Dr. Doug Pearsall, Dr. Scott Sowa, Lindsay Chadderton, Mary Khoury) partnered with the Great Lakes Ecosystem Assessment and Mapping (GLEAM) Project to map threats and ecosystem services across the Great Lakes Region.
Urban Green Infrastructure - The Conservancy is currently working with U-M Water Center researchers to understand the role of urban areas, including Detroit, on Great Lakes water quality (Dr. Scott Sowa, Valerie Strassberg, Dr. Patrick Doran). 
Agriculture and Freshwater – Dr. Scott Sowa partnered with the U-M Water Center and U-M researchers in the College of Engineering and the School of Natural Resources and Environment to understand the role of agricultural conservation efforts in improving water quality and reducing harmful algal blooms.
Areas for Research Collaboration
Interested in collaborating with The Nature Conservancy? Here are a few areas where collaboration could take place:
Partnerships on urban green infrastructure, climate change, and agricultural impacts on the great lakes ecosystem will continue to be important for TNC to advance its mission. Current TNC projects include:

Dr. Scott Sowa and Mary Khoury developing a habitat mapping and classification framework for the Great Lakes, and
Matt Herbert and Dr. Patrick Doran conducting fisheries research on to map tributary spawning fish, assess Cisco restoration, and evaluate effectiveness of protected areas.

There are opportunities for students at all levels to engage with vital research efforts. For example, two recent projects included:


U-M Ross School of Business students completed a report for the TNC titled, "Demand and Cost Modeling for Establishment of Private Wetland Mitigation Banking in Michigan," which TNC staff used for feasibility discussions around private wetland mitigation banking.
Master's students at the U-M School of Natural Resources and Environment created an ESRI story map to aid decision making by forest owners in the Great Lakes' northwoods.