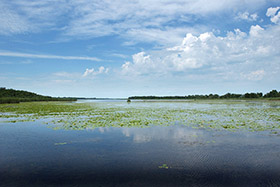 Contact: Jennifer Read, U-M Water Center, (734) 769-8898, jenread@umich.eduSupported Projects (PDF)
The University of Michigan Water Center has awarded an additional $758,000 in research and capacity building grants, totaling more than $1.2 million since last November to increase freshwater research capacity at the University.
Eight projects were selected under this second and final round of the Center's most recent funding initiative, a rolling request for proposals titled Increasing Freshwater Research Capacity at the University of Michigan. Through this RFP, the Center engaged diverse faculty and researchers to address critical freshwater issues globally and expand freshwater research and teaching on campus. A primary goal of the initiative is to support projects that address key freshwater challenges at the interface of the natural, social, physical, and health sciences.
"We challenged the U-M community to cross departmental and disciplinary boundaries to assemble teams best-equipped to address the most complex issues facing freshwater ecosystems, and the response was tremendous," said Water Center Director Allen Burton. "We received many more excellent proposals than we could fund, but through a rigorous review process were able to identify those projects most capable of harnessing the diverse research excellence on campus and applying it to freshwater systems in novel and needed ways."
The RFP offered two levels of funding: leveraging grants, up to $50,000, to develop curriculum, support instrument acquisition, or support graduate students and fellows; and grants up to $250,000 for larger, cross-departmental efforts that cultivate new research partnerships and capabilities as the basis for long-term freshwater research efforts at the University.
This second round of grants, which range in size from approximately $10,000 to $250,000 and include six leveraging grants and two larger grants, were awarded to teams led by researchers from across the University including the Departments of Civil and Environmental Engineering, Ecology and Evolutionary Biology, Earth and Environmental Sciences, Chemistry, Environmental Health Sciences, and the School of Natural Resources and the Environment and engage a total of twelve departments and units on campus. The eight winners were selected from twenty-nine proposals submitted.
Projects were selected based on the ability of teams to initiate new freshwater collaborations on campus, apply on-campus expertise to freshwater topics in new and novel ways, and identify and develop new freshwater research programs on campus. The large projects, in particular, go beyond a typical research project focused on answering a research question with emphasis on building new relationships, working across disciplines, and growing capacity on campus to conduct freshwater research in areas that are not currently supported at the University.
Below are the eight grants and their principal investigators:
Large grants (up to $250,000)
"Building capacity for freshwater science: Integrating microbial genomics, environmental chemistry, and ecosystem processes to understand harmful algal blooms," Gregory Dick, Department of Earth and Environmental Sciences, Department of Ecology and Evolutionary Biology. Goal: Integrate methods and add perspectives from diverse disciplines to build capacity for understanding the causes and consequences of harmful algal blooms.
"Improving water quality and well-being in Great Lakes post-industrial cities: A multidisciplinary partnership to assess Detroit's green infrastructure," Joan Nassauer, School of Natural Resources and Environment. Goal: Establish a multidisciplinary research team to explore the implications of green infrastructure design and planning strategies on socio-environmental systems in Detroit.
Leveraging grants (up to $50,000)
"Lake spray aerosol emissions of toxins and pollutants to the atmosphere in the Great Lakes Region," Andrew Ault, Department of Chemistry, Department of Environmental Health Sciences. Goal: Establish the capability at U-M to study freshwater lake spray particles to inform future studies exploring potential human health impacts.
"Stream Restoration for Graduates: Enhancing multidisciplinary learning through course augmentation and in-stream experiential activities," Aline Cotel, Department of Civil and Environmental Engineering. Goal: Improve a graduate-level stream restoration course in order to attract students from diverse departments and increase hands-on learning.
"Environmental DNA-based quantification of dreissenid mussels and their impacts on freshwater bacterioplankton: Building the foundation for a U-M program focused on the interactions between freshwater invasive species and microbial communities," Vincent Denef, Department of Ecology and Evolutionary Biology. Goal: Establish an assay using environmental DNA to assess zebra mussel abundance and its impacts on microbial communities in inland lakes.  
"Assessing the assessment tool: Developing improved modeling frameworks for evaluating hydraulic fracturing water withdrawals in Michigan," Brian Ellis, Department of Civil and Environmental Engineering. Goal: Assess the adequacy of an online screening tool to evaluate the impacts of hydraulic fracturing-related water withdrawals on surface water and residential water supply wells.
"Exploring empirical evidence for climate justice in the Huron River Watershed," Paul Mohai, School of Natural Resources and Environment. Goal: Conduct an empirical study of climate justice for the Huron River watershed including developing an index that reflects socioeconomic impacts of climate change.
"The impacts of agriculture on freshwater ecosystems: Will strengthening local food systems help or hurt?" Ethan Schoolman and Thomas Princen, School of Natural Resources and Environment. Goal: Investigate the environmental consequences of efforts to strengthen local food systems.
Detailed descriptions of these and all other Water Center supported projects are available at graham.umich.edu/water/projects.
Since establishment in the fall of 2012, the Water Center has awarded more than $5.6 million in grants to support freshwater research across the Great Lakes region.
The Water Center is part of the University of Michigan's Graham Sustainability Institute. It is supported by funds from the Fred A. and Barbara M. Erb Family Foundation and the University of Michigan.