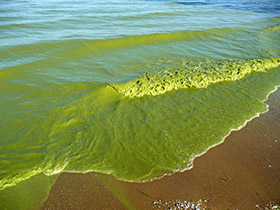 This spring the Water Center played a key role in convening a meeting of Lake Erie modelers, agency personnel, and others tasked with assessing the capabilities of existing ecological models to relate nutrient loads from Lake Erie watersheds to response variables of concern like harmful algal blooms and hypoxia.
A re-emergence of toxic and nuisance algal blooms has plagued Lake Erie and the nearshore areas of other Great Lakes in recent years. As part of the Great Lakes Water Quality Agreement (GLWQA), amended in 2012, the United States and Canadian governments have made commitments to manage phosphorus concentrations and loadings contributing to algae problems. Whole lake total phosphorus loading targets were first established for the Great Lakes in the 1970s. Efforts are currently underway to evaluate existing phosphorus objectives and load targets for Lake Erie and to update those targets using current research, monitoring, and modeling capabilities.
A key objective of the Water Center hosted meeting was to propose a process for conducting an ensemble modeling effort to produce recommendations for revised Lake Erie objectives and associated target phosphorus loads to the GLWQA Annex 4 (Nutrients) Objectives Task Team.
On day one of the meeting, participants discussed a series of ten Lake Erie models capable of addressing at least one of four key Eutrophication Response Indicators (ERIs) of concern:
Overall phytoplankton biomass as represented by chlorophyll-a
Cyanobacterial blooms in the Western Basin
Hypoxia in the hypolimnion of the Central Basin
Cladophora in nearshore areas of Lake Erie
Day two discussions were focused on understanding comparisons among model outputs and developing a plan for an ensemble modeling effort that would lead to new loading targets in the fall. The proposed ensemble approach provides several benefits over relying on a single model. All models would use the same basic input data to create common load-response relationships, and each of those models would be applied using a series of tasks to produce a set of results to be used in making the target load and objectives recommendations.  
For background information on Lake Erie phosphorus, view a recent report to the International Joint Commission.
Learn more about the GLWQA, first signed by the U.S. and Canadian governments in 1972 and amended in 1978, 1987, and 2012.