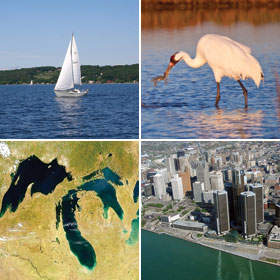 Water Center Fact SheetThe U-M Water Center addresses critical and emerging regional and national water resource challenges. Working with scientists and partners, the Water Center addresses water resource challenges in the Great Lakes region and nationally, by fostering collaborative research that informs policy and management decisions affecting our waters.
Mission
Our mission is to foster collaborative research that informs the policy and management decisions that affect our waters. Water Center projects integrate:
Researchers: We engage and support faculty and students from across the University of Michigan as well as from other universities. We extend the impact of their work by building bridges between researchers and practitioners.
Intended Users: We collaborate with members of the water community that are in a position to use or benefit from projects. For example, natural resource managers, non-profit and business leaders, and decision makers from all levels of government serve on advisory groups for projects.
Collaboration Specialists: Water Center staff, in partnership with other experts, coordinate and facilitate collaborative processes that foster learning and the co-production of science.
Collaboration & Support
The Water Center's collaborative approach ensures the development of high-quality, usable, science-based products benefitting the Great Lakes region, coastal estuaries, and beyond. The Water Center manages the National Estuarine Research Reserve System's Science Collaborative, supporting collaborative research and science transfer to improve coastal management across the nation's salt and freshwater coasts.
In addition to working directly with end-users to conduct and coordinate collaborative research projects, we also design and implement innovative grant making processes that support this vital need. We are driven by the desire to ensure management of our water resources is informed by the best possible science. The Water Center currently houses researchers with expertise in water resource policy, watershed and lake ecosystem modeling, and habitat restoration, as well as research specialists experienced in collaboration, convening, science translation, and program evaluation. Water Center-led and supported projects are generating valuable products and tools for resource managers and decision-makers, and the Center's diverse array of partnerships continues to catalyze new projects.
Housed within U-M's Graham Sustainability Institute, the Center receives major support from the Fred A. and Barbara M. Erb Family Foundation and the National Oceanic and Atmospheric Administration.
Established in 2012
The U-M Water Center was established in 2012 with support from the University of Michigan Provost Office and the Erb Family Foundation. The Water Center is located at 214 S. State St., Suite 200, Ann Arbor, MI 48104, phone: 734-615-8402.