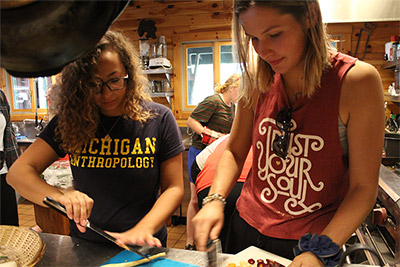 Besides the coursework, scholars participate in a variety of activities together outside of class, including:
Fall Retreat: Please reserve this on your calendar: the last Tuesday and Wednesday of August.
Participation in the Graham Scholars Program officially begins with the Fall Retreat and all junior scholars are expected to attend. The agenda is packed with discussion, outdoor activities and team-building among the cohort, including a vegetarian dinner cook-off competition (photo from the competition, right).

See: What to pack.
Other Activities
Optional Winter Retreat: All junior and senior Scholars are welcome to attend a winter retreat. Groups gravitate to the U-M Biological Station year after year.
Learn From Sustainability Professors and Practitioners: Throughout the academic year, scholars are invited to talk with and learn from sustainability leaders in the area through informal discussions.
Summer Internships: Many Scholars take advantage of summer internships - opportunities are posted on social media.
Workshops, community, and social events: Scholars also organize Ann Arbor community events, support each other's sustainability initiatives, get together for dinner and go to movies.