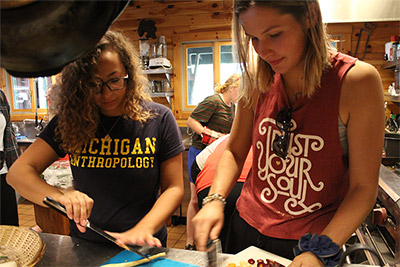 In addition to sustainablity courses, Scholars participate in a variety of activities, including:
Team Project: Teams of Scholars work on a sustainability project with a partner external to the university. This is an intense but rewarding experience to be in the drivers seat as sustainability professionals and learn about project management, community engagement, and working with interdisciplinary teams. The 2021 Junior  Scholars cohort will begin their team project in September.
Fall Retreat: Please reserve this on your calendar (to be announced). Participation in the Graham Scholars Program officially begins with the Fall Retreat and all junior scholars are expected to attend. The agenda is packed with discussion, team-building activities, and more. See: What to pack.
Optional Winter Retreat: All junior and senior Scholars are welcome to attend a winter retreat. Groups gravitate to the U-M Biological Station year after year.
Optional Summer Internships: Many Scholars take advantage of a limited number of paid summer internships.
Workshops, community, and social events: Scholars also organize Ann Arbor community events, support each other's sustainability initiatives, and get together at the Botanical Gardens, or for pizza.