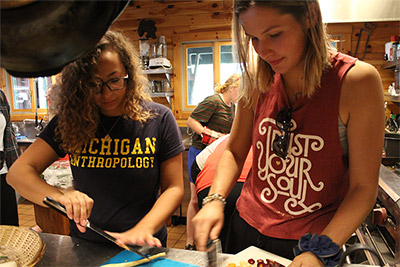 Besides the coursework, scholars participate in a variety of activities together outside of class, including:
Fall Retreat: Participation in the Graham Scholars Program officially begins with a sustainability leadership and systems thinking orientation retreat each August.
Optional Winter Retreat: All Scholars also have the option to attend a winter retreat.
Learn From Sustainability Professors and Practitioners: Throughout the academic year, scholars are invited to talk with and learn from sustainability leaders in the area through informal discussions.
Engage with Graduate Students: Through events and small group discussions.
Summer Internships: Many Scholars take advantage of summer internships - opportunities are posted on social media.
Workshops, community, and social events: There are many group social events throughout the year; some are planned while others are more spontaneous. Scholars also organize Ann Arbor community events, support each other's sustainability initiatives, get together for dinner and go to movies.