Johanna Mathieu (Engineering), Ming Xu (Natural Resources) and Marie O'Neill (Public Health) have agreed to link their MCubes to focus on improving energy efficiency, explore the food-energy-water nexus to increase urban sustainability, and address women's health in urban environments. Mathieu, Xu and O'Neill and their MCubed collaborators all share a common link: sustainability. By linking their cubes they are forming a MCubed Sustainability Block involving nine total researchers.
The Graham Institute's Emerging Opportunities Program awarded $10,000 in additional research support to this MCubed Sustainability Block. Block member meetings will focus on potential synergies, activities and future interdisciplinary sustainability-related grant applications. The team will use funds to host meetings and extend support for students, including:
A postdoctoral fellowship managed by Marie O'Neill
An undergraduate student researcher managed by Johanna Mathieu 
A postdoctoral fellowship managed by Ming Xu
Sustainability Block Researchers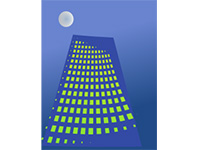 Improving the energy efficiency of buildings participating in power system ancillary services; Johanna Mathieu (Engineering), Jeremiah Johnson (School of Natural Resources and Environment), and Ian A. Hiskens (Engineering)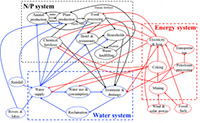 Uncovering the Food-Energy-Water Nexus for Urban Sustainability; Ming Xu (School of Natural Resources and Environment), Josh Newell (School of Natural Resources and Environment), and Glen Daigger (Engineering)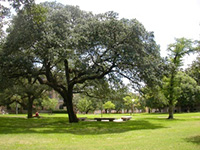 Green spaces, food environments and the health of pregnant women in Mexico City; Marie Sylvia O'Neill (School of Public Health), Karen Eileen Peterson (School of Public Health), and Daniel G. Brown (School of Natural Resources and Environment)
Support for Sustainability Blocks
To help advance work on sustainability topics and support faculty collaborations, the Graham Institute developed the Sustainability Block incentive, which will be offered again in future MCubed cycles. The Graham Institute provided a cash incentive ($10K) if three cubes link to form a Sustainability Block.
The Sustainability Block incentive is part of the Graham Institute's new Emerging Opportunities Program, which supports collaborative sustainability research and assessment activities that span multiple disciplines and sectors and connect science to real-world decisions and actions. These activities range from one-time meetings to multi-year projects.
The Graham Institute engages, empowers, and supports faculty and students from all U-M units, and integrates this talent with external stakeholders, to foster sustainability solutions at all scales. Individuals, corporations, foundations, government agencies, and the University of Michigan support the Institute.
MCubed stimulates innovative research and scholarship at the University of Michigan by distributing real-time seed funding to multi-unit, faculty-led teams. Faculty from at least two different campus units can form a collaborative trio, or "cube," and request either $60K or $15K to advance their idea right away. Housed in the University of Michigan of Office of Research, MCubed is part of the Third Century Initiative, established by the president and provost.
Learn More