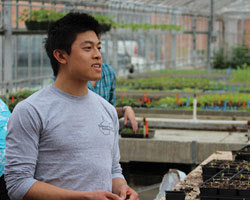 "I still feel like there are so many things I might want to do in the future, but this [Udall Scholarship] has encouraged me to think about graduate school and articulate my passion for environmental justice and the intersection of globalization, the environment, and identity,"
—Daniel Wu
Daniel Wu, an Ecology and Evolutionary Biology undergraduate student in LS&A has been awarded a prestigious Udall Scholarship to strengthen his commitment to pursuing an environmental career.
"I still feel like there are so many things I might want to do in the future, but this [Udall Scholarship] has encouraged me to think about graduate school and articulate my passion for environmental justice and the intersection of globalization, the environment, and identity," said Wu.
Wu noted that the Udall Scholarship application provided an opportunity for him to reflect on his experiences to date and encouraged him to consider what path he might take moving forward.
"I plan to pursue a master's degree in conservation ecology or environmental justice. In the future, I plan to pursue a career in land and biodiversity conservation and work on issues of environmental justice and diversity in the environmental field," said Wu.
Alongside his coursework, Wu is also part of the Graham Sustainability Scholars Program, which brings together high-performing undergraduates from across the university to work together and learn from one another about the complexity and diversity of sustainability issues. He also serves on the Student Sustainability Initiative (SSI) board, which is an umbrella organization designed to connect and support U-M student environmental groups. Wu's SSI efforts have focused on zero-waste efforts, through which he and a colleague reached over 8,000 people, coordinating the use of compostable dinnerware and educating students about the importance of reducing waste.
Wu recommends that students applying for Udall and similar scholarships demonstrate how scholarly and co-curricular experiences may have a common thread leading to a career path. Additional examples of Wu's sustainability activities include:
Natural Resources Research: Environmental Spatial Analysis of land use and land cover change in sub-Saharan Africa.
Planet Blue Student Leaders: Established a residential composting pilot program in Bursley, implemented food waste studies in dining halls and educated other students on how they can reduce their environmental impact.
Doris Duke Conservation Scholar: Developed a tool for land conservation and land use policy through a summer internship at Forterra and learned about conservation issues in Washington state.
"This application process has also made me so grateful for all the different opportunities I have been afforded and the amazing mentors, friends, and communities I have." 
Learn More