Video: Forecasting Dead Zones and Toxic Algal Blooms, courtesy of U-M News.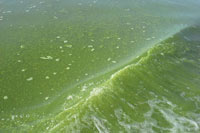 Lake Erie, Chesapeake Bay and the Gulf of Mexico
Harmful algal blooms (HABs) can contain severe toxic cyanobacteria (e.g., Microcystis sp., and Anabena sp.). They are a persistent problem in Lake Erie, and other fresh and saltwater systems. In the Great Lakes, HABs usually peak from August-September, and can be harmful and even fatal to aquatic life and people.
Hypoxia (low oxygen) is a problem in the central basin of Lake Erie, the Chesapeake Bay, the Gulf of Mexico, and elsewhere. When algae die, settle to the bottom, and decay, it can reduce oxygen levels to conditions dangerous to fish.
While many factors can contribute to these problems, both are driven primarily by excess nutrients (e.g., phosphorus, nitrogen) from land, which is in turn driven by land-use choices and weather patterns, particularly severe storms.
Scientists from the University of Michigan (U-M), North Carolina State University, Louisiana State University, the University of Maryland, Virginia Institute of Marine Science, LimnoTech, and the National Oceanic and Atmospheric Administration have developed a collection of models capable of forecasting hypoxia and HABs in three iconic systems: Lake Erie, Chesapeake Bay, and the Gulf of Mexico. Each year, they combine efforts to release ensemble forecasts.  U-M is the only group to contribute to all three forecasts and our contributions can be found Here.
This Year's Ensemble Forecasts
It is important to note that while all three foreasts are for roughly "average" conditions, these forecast averages are all considerably higher than the goals set for Lake Erie, the Gulf of Mexico, and the Chesapeake Bay.  Significant additional management actions are still required to meet those goals.
The Lake Erie forecast calls for a harmful algal bloom (HAB) is expected to measure 5.5 on the severity index, but could range anywhere between 3.0 and 7.0. The forecast is similar to conditions last seen from 2008 to 2010, although the bloom may be as small as that seen in the relatively mild year of 2004. See the Press Release for the Full Lake Erie Forecast Here.
The Chesapeake Bay forecast calls for an oxygen-depleted, or hypoxic, region of about 1.58 cubic miles, which is close to the long-term average measured since 1950.The anoxic, or oxygen-free, portion of the zone is predicted to be 0.28 cubic miles in early summer, growing to 0.31 cubic miles by late summer. Low river flow and low nutrient loading from the Susquehanna and Potomac rivers this spring account for a smaller-than-average predicted size of the anoxic portion.  See the Press Release for the Full Chesapeake Bay Forecast Here.
The Gulf of Mexico forecast calls for an oxygen-depleted, or hypoxic, region of 5,898 square miles, an area roughly the size of Connecticut and similar to the past several years. Between 1995 and 2015, the gulf dead zone averaged 5,941 square miles. See the Press Release for the Full Gulf of Mexico Forecasts Here. 
These annual forecasts are motivated by two goals: to raise public and political awareness of the policy issues driving these phenomena and to test model skill and increase confidence in their use for testing policy-relevant scenarios. While our Lake Erie HAB forecasts have begun only recently, our annual forecasts for the Gulf of Mexico and Chesapeake Bay began in and 2002 and 2007. With the exception of years with extreme and unanticipated weather events like hurricanes and tropical storms (e.g., 2003 and 2009 in the Gulf, 2007 and 2014 in the Bay), the annual forecasts have been quite accurate.
Gulf of Mexico Forecast Track Record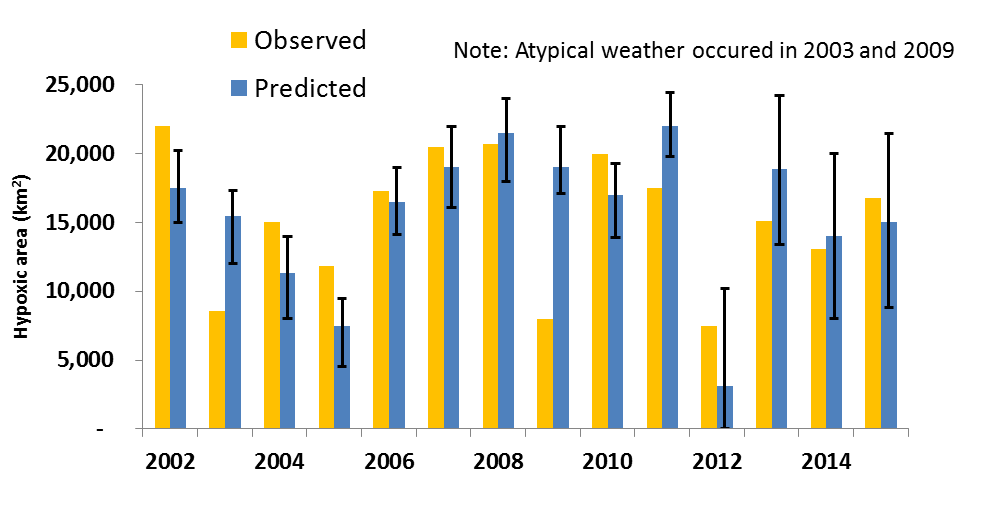 Chesapeake Bay Forecast Track Record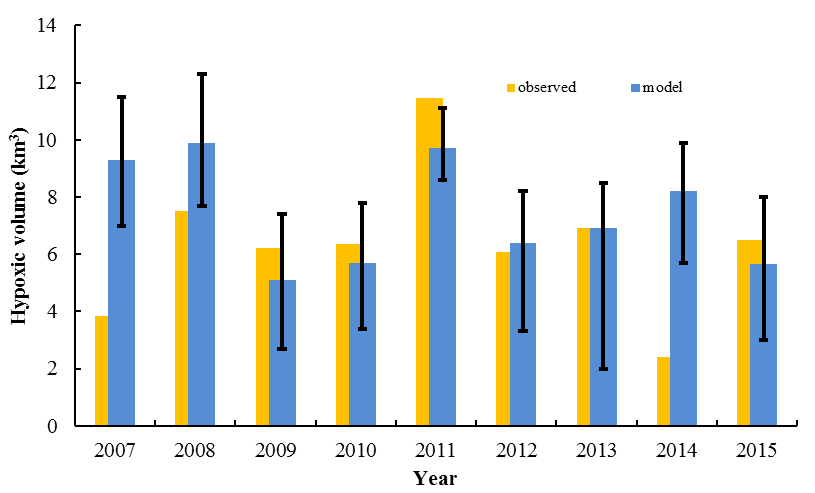 HAB and Hypoxia Resources