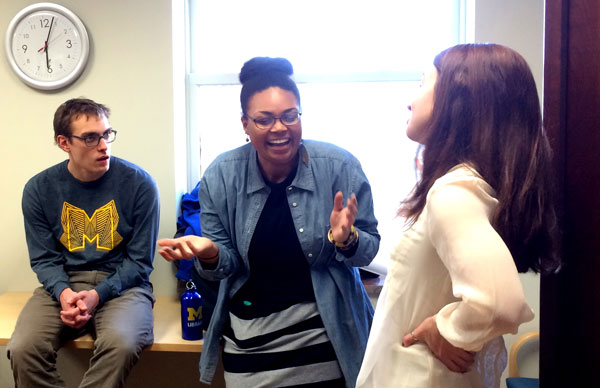 Graham Sustainability Scholars Dinner March 31, 2015
Contacts: Nicole Berg, nberg@umich.edu, 734-647-6863
The annual Graham Sustainability Scholars welcome dinner is the kick-off event among many activities designed to foster sustainability leadership skills and lifelong connections among this select group of undergraduates from a myriad of campus programs. In addition to courses, scholars will participate in retreats, small-group discussions with sustainability practitioners, and a range of self-organized activities.
Like those before them, these sustainability scholars will participate in projects on campus, in the Ann Arbor area and across the globe. Past field experience locations include Hawaii, Iceland, Denmark, Italy, Ghana, China, India and many more.
"The tight cohort of students focused on sustainability leadership is what sets this program apart. Our 62 scholars represent the best and the brightest undergraduates from across the University." said Drew Horning, Deputy Director of the Graham Sustainability Institute.
Open exclusively to top-performing undergraduate students at U-M, the Graham Undergraduate Sustainability Scholars program engages undergraduate students in action-based learning and co-curricular activities that foster systems thinking skills and leadership development for sustainability.
The University of Michigan Graham Sustainability Institute fosters sustainability through translational science, transformative learning and campus leadership. See: Undergraduate Sustainability Scholars webpage.