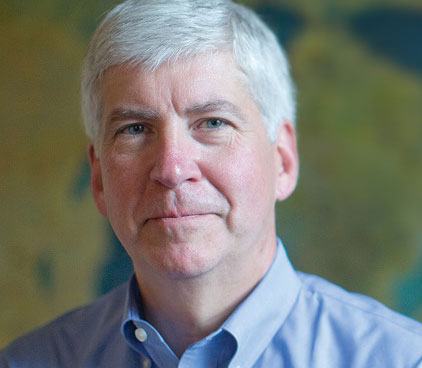 Governor Rick Snyder credits Graham Institute in Special Message
Comments Welcome on Hydraulic Fracturing by this Friday
New Article from Michigan State University (MSU) Extension
On Friday, March 13, in a special message to Michigan's Legislature and citizens, Governor Snyder addressed the importance of adaptable, reliable, affordable and environmentally protective energy.  
Citing its usefulness for evaluating existing policy, the Governor referred specifically to the Graham Institute's draft report on high volume hydraulic fracturing.
"That [report] helped us see an opportunity to strengthen our protection of water and give the public more information," said Governor Snyder."The State looks forward to reading the final assessment and considering whether further rule changes or other improvements should be proposed."
Dean Solomon, Senior Educator with MSU Extension and land use planning expert, noted that the draft report is an excellent resource for location officials and emphasized the importance of public engagement facilitated by the Graham Institute's research team.
"The step-by-step approach includes technical research and, importantly, stakeholder input," said Solomon.
Public comments on the draft report are due: Friday, March 20, 2015. Look for an announcement this summer about the final report on hydraulic fracturing from the Graham Institute's Integrated Assessment Center.
Resources
News Brief, Elizabeth LaPorte
Contact: John Callewaert, Integrated Assessment Center Director: 734-615-3752, email jcallew@umich.edu