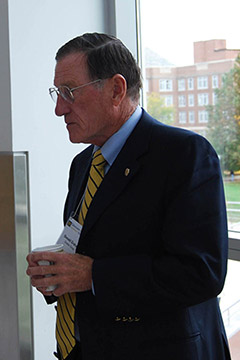 The University of Michigan recently received a new gift commitment from the Graham Family Foundation, which enables the Graham Sustainability Institute to achieve greater impact through continuing support for its interdisciplinary sustainability research, education, and engagement efforts.
Established in 2006, the core purpose of the Institute is to foster sustainability at local, national, and global scales by systematically bringing together and harnessing talents across all U-M units. This work focuses on three key areas: Translational Science, Transformative Learning, and Campus Leadership.
"We are very proud of the work we do to advance sustainability knowledge, learning, and leadership at U-M," said Graham Family Professor Don Scavia, who just entered a second term as the Institute's director. "As we embark on our next chapter, we are exceedingly grateful to the Graham Family Foundation for empowering us to continue our efforts to make a positive difference in the world."   
As part of the new gift agreement, the Institute's name has been officially changed from the Graham Environmental Sustainability Institute to the Graham Sustainability Institute. Graham Deputy Director and Chief of Staff Andrew Horning explained the rationale behind the name revision.
"At its core, sustainability is about finding solutions that harmonize environmental, societal, and economic, considerations.  Our new name better conveys the breadth of our work, and the fact that it draws upon expertise from all corners of the university."
The Graham Institute currently comprises more than 30 team members spanning four primary program areas: education, integrated assessment, climate, and water.  Through the generosity of a wide range of individuals, foundations, and corporations, the Institute has undergone a dramatic expansion since being founded just eight years ago.
"I've been proud to watch the Institute grow and mature into a talented and formidable team," says Donald Graham, chairman of the Graham Family Foundation. "We are honored to help support this important work to pursue collaborative and meaningful solutions to global sustainability challenges, while simultaneously cultivating the next generation of sustainability leaders."
Click here to learn more about the Graham Sustainability Institute and its founder.