Wednesday, August 20, 2014
HOPE Village Initiative VideoTwo Detroit nonprofit organizations—Focus: HOPE and Data Driven Detroit—are doing amazing things to help Detroit thrive, and for nearly three years, the University of Michigan's Graham Sustainability Institute has been supporting them in this important work.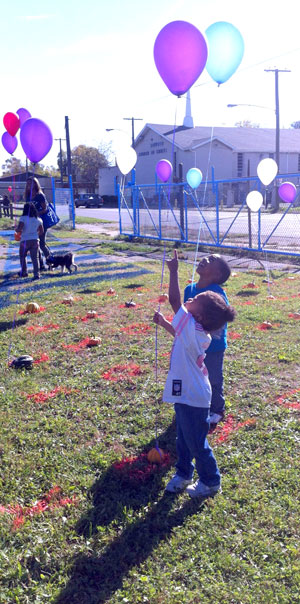 It all started in 2011, when the Detroit civil and human rights organization Focus: HOPE expressed interest in consolidated university support for determining how to best meet the goals of their HOPE Village Initiative, which is for all 5,300 residents in a 100-square block area to be well educated, economically self sufficient, and living in a safe and supportive community by the year 2031.
The Graham Institute accepted the role and convened six teams of U-M experts to thoroughly examine areas of concern to Focus: HOPE. With a focus on social, environmental, and economic issues, the university teams spent 18 months studying the area, surveying residents, and otherwise examining problems and opportunities.
"The researchers really listened and worked with us," said Oakman Boulevard Community Association President Lisa Robinson, a lifelong resident of the neighborhood, who also joined one of the projects as a trained, community researcher. "It gives me hope that somebody's paying attention to the community and recognizing the importance of the people and the resources you can get from them. I really appreciated the opportunity to get to know my neighbors, to learn how to conduct research, and to come up with strong ideas to advance the HOPE Village Initiative. "
Participating faculty hailed from multiple disciplines, including urban planning, engineering, law, the environment, education, economics, and public affairs, and researchers from both the Ann Arbor and Dearborn campuses were involved. The collaborative research resulted in a series six reports with tangible recommendations for how and where Focus: HOPE could likely have the most positive impact in the areas of physical environment, economic development, education, employment, and more. The reports are available on the Graham Institute website.
Ideas in the reports, among many, include strategies for converting vacant properties into community spaces; developing a community currency, whereby residents can offer services to each other through a time bank; and improving pedestrian safety along key commercial corridors by through "streetscaping" and lighting.
Of course, the majority of recommendations take money to move forward. That's why each of the six university teams also provided fundable project proposals that Focus: HOPE may submit to potential funders if or when they want.
The combined efforts are already helping several of the proposed ideas take form. For example, one team's contributions helped put the community at the forefront of plans to complete a 26-mile greenway through Detroit, Highland Park, and Hamtramck.  Another team is transforming a vacant lot into a garden and play area using ideas generated by neighborhood residents and additional funding from the Graham Institute and Focus: HOPE.
"We are committed to meeting the targets we've established for our community, so it's important that we work smart to get there," said Focus: HOPE CEO William Jones. "The work we did with Graham provided some very valuable insights and practical recommendations, and the collection of reports is serving as a blueprint for helping us to move forward. This has been a very worthwhile partnership."

While the collaborative study with the Graham Institute is concluding this summer, the doors between the two organizations are remaining open for dialog. Focus: HOPE is also continuing to interact with the faculty teams about various findings and potential next steps.
 The second nonprofit organization the Graham Institute has been collaborating with for nearly three years is Data Driven Detroit (D3), an affiliate of the Michigan Nonprofit Association. Known as a go-to source for data about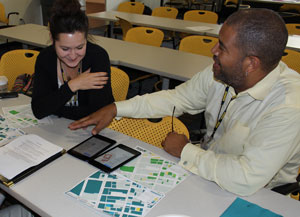 virtually all aspects of Detroit and Southeastern Michigan, D3 believes that direct and practical use of data by grassroots leaders and public officials promotes thoughtful community building and effective policymaking. When presented in a "layered map" format, D3's work puts a wealth of information in the hands of those who need to answer questions about social, environmental and economic indicators at a neighborhood level. Graham was eager to contribute what it could to this valuable resource; a "win-win" partnership was born.
The Graham Institute funded and facilitated six U-M faculty-led research projects, with subject matter including: economic disparity and federal investments; landscape care and investment in vacant residential areas; water quality and watershed management; air-pollution pockets or hotspots; and urban sustainability indexing. After two years of extensive work by the teams, practical and useable research data was successfully provided to D3 on all of these subjects.
"We were very glad to have collaborated with the Graham Institute," said D3 Director Erica Raleigh. "The U-M faculty contributed data sets we never had before, and we look forward to making this information available to those who can use it."
The ability for end-users to properly access and "use" the data is a whole other story, as databases and online mapping tools can be extremely complex and confusing to navigate.
"D3 has so much practical data to help community leaders, city planners, and stakeholders make informed decisions," says Graham Institute Integrated Assessment Director John

Callewaert. "That's why we decided to offer a series of workshops over the summer to help make sure these people know exactly where, and how, to access and use such tools."
The hands-on training sessions, which are being held in Detroit in July and August 2014, were made possible with funding from U-M's former Center for Advancing Research and Solutions for Society (CARSS).
"We hope the work we've done will have lasting and meaningful impacts for the health of well-being of the city and its residents," Callewaert said, "and we look forward to additional meaningful collaboration in Detroit."
To learn more about both Detroit projects, and to access reports about the HOPE Village Initiative, visit the Graham Institute website at graham.umich.edu/knowledge/ia/completed.