Thursday, September 15, 2016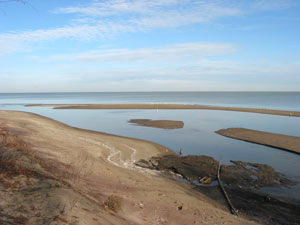 In honor of National Estuaries Week, the University of Michigan Water Center is proud to highlight two unique research reserves found in the Great Lakes – Lake Superior and Old Woman Creek National Estuarine Research Reserves. These freshwater estuaries are a unique combination of river and lake waters, and provide opportunities for long-term research, water quality monitoring, education and stewardship. Regulated by storm surges, seiches (a French word meaning to sway back and forth) and water temperature, fresh water estuaries support a diverse assemblage of native plants and animals, and provide critical ecosystem services. For example, estuaries serve as natural filters for runoff and as nursery grounds for many species of birds, fish, and other animals. Effective protection and restoration of estuarine ecosystems requires a carefully constructed science support program that brings to bear the highest quality, user-driven research.
The National Estuarine Research Reserve System (NERRS) is a network of 28 estuarine reserves, including Old Woman Creek and Lake Superior. More than 1.3 million coastal and estuarine acres in 22 states and Puerto Rico are part of the reserve network, designated to protect and study estuarine systems. The University of Michigan Water Center and partners are working with the National Oceanic and Atmospheric Administration (NOAA) to implement the NERRS Science Collaborative. This is a competitive funding program that supports user-driven collaborative research, assessment and transfer activities that address critical estuarine reserve management needs.
Learn more