A Detroit Native and Reefs Near Belle Isle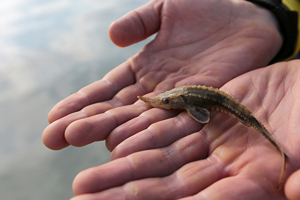 Native fish in the Detroit River are making a comeback. River water quality and habitat for fish have improved so much that lake sturgeon, walleye, lake whitefish and 12 other native fish species are spawning in reefs constructed just for this purpose. Recently, one of the first reefs constructed in the Detroit River near Belle Isle was expanded as part of an effort to support native fish and wildlife in the area.
"The original reefs are very small: 50 feet by 80 feet. But they were very successful," said Jennifer Read, director of the University of Michigan Water Center. "We had about 14 native species spawning on the site so it seemed like a natural to increase the size to accommodate more fish!"
The U-M Water Center and partners are continuing to increase habitat for native fishes throughout the St Clair-Detroit River system. These projects are part of a Detroit River renaissance, supported by the Great Lakes Restoration Initiative and partners like DTE Energy, Canadian and U.S. government agencies, and others.
Lake sturgeon are a historic fish species, once abundant in Michigan and throughout the Great Lakes, and are listed as endangered, threatened or a special concern in many states. Fishery managers and sportsmen alike hope to see this important species rebound as a result of this work.
Read the Detroit Free Press article: Reef projects on Detroit River put a charge in sturgeons' love lives.
Watch the Video: Jennifer Read, director of the University of Michigan Water Center, and U.S. Fish and Wildlife Service biologist Justin Chiotti describe the latest fish habitat project on the Detroit River. Keith Matheny Detroit Free Press
Learn More