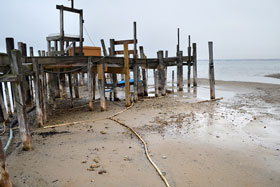 After more than a decade of decline, water levels in Lakes Michigan and Huron reached historic lows in 2013, impacting the economy and ecology of the region. Following cooler and wetter conditions in 2014, water levels have since risen, underscoring the dynamic nature of the Great Lakes system.  Determining what to do about these changing levels becomes increasingly complex as one considers relatively stable water levels on the lower Lakes Erie and Ontario, contentious debate over engineering options, uncertainty about climate change impacts, and the wide range of affected stakeholders.
To help decision makers address the challenges and opportunities posed by Great Lakes water level variability, the Integrated Assessment Center and Water Center at the Graham Sustainability Institute have initiated an Integrated Assessment focused on Lakes Michigan-Huron and Erie, including the Lake Huron to Lake Erie corridor, which asks:
What environmentally, socially, politically, and economically feasible policy options and management actions can people, businesses, and governments implement in order to adapt to current and future variability in Great Lakes water levels?
Water Levels Summaries
Planning Grants
The Graham Institute awarded a total of $70,000 to the following seven teams of U.S. and Canadian researchers for six-month planning grants. Running from March through August 2015, the planning grants  explored potential adaptive strategies and aided in identifying appropriate localities and partners willing to collaborate in the IA.
Building a Great Lakes Lake Level policy for agency-owned and managed lands in northwestern Lower Michigan
Dennis Albert - Oregon State University
Paul Drevnick - University of Michigan
Huron County shoreline planning proposal for an integrated assessment of water-level fluctuations
George Arhonditsis, Vincent Cheng - University of Toronto at Scarborough
Lynne Peterson - Consultant
Agnes Richards - Environment Canada
Transformative scenario planning in Collingwood, Ontario, using enhanced visualization techniques
Adam Fenech - University of Prince Edward Island
Colin Dobel - Ontario Water Center
Daniel Scott - University of Waterloo
Planning for an integrated assessment on water-level variability and coastal bluffs in northern Milwaukee County and southern Ozaukee County, Wisconsin
David Hart, Jane Harrison, Adam Mednick - Wisconsin Sea Grant
Bruce Bessert - Concordia University
John Janssen, Jenny Kehl - University of Wisconsin-Milwaukee
Jim LaGro, David Mickelson, Brian Ohm, Chin Wu - University of Wisconsin-Madison
Inclusion of climate-change effects on lake levels in management plans of tribal fisheries
Frank J. Marsik, Richard B. Rood - University of Michigan
Kyle P. Whyte - Michigan State University
Implementing adaptation: Developing land-use regulation and infrastructure policy to implement Great Lakes shoreland area management plans
Richard K. Norton - University of Michigan
Guy A. Meadows - Michigan Technological University
Regional partnerships to assess adaptive responses to Grand Traverse Bay Corridor water-level variations
Hans VanSumeren, Constanza Hazelwood - Northwestern Michigan College
For more information, please contact John Callewaert, IA Center Director at (734) 615-3752 or jcallew@umich.edu.