Graham Sustainability Institute Diversity, Equity and Inclusion Statement 
At the Graham Sustainability Institute, our dedication to academic excellence for the public good is inseparable from our commitment to diversity, equity, and inclusion. Our mission of engaging, empowering, and supporting faculty, staff and students to foster sustainability solutions includes ensuring that each member of our community thrives. We believe that diversity is key to individual empowerment, and the advancement of sustainability knowledge, learning and leadership.
— Statement developed by the Graham Diversity, Equity and Inclusion Planning Team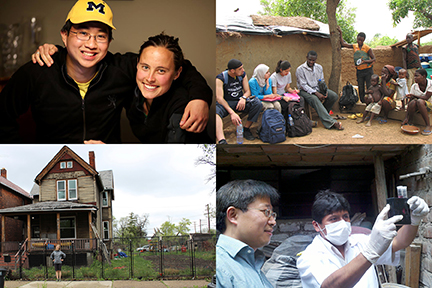 In November 2015, the Graham Institute assembled a diversity, equity and inclusion planning team (DPT). Members of the DPT include students, staff and Graham leadership. The team refelcts the racial, cultural and other diverse groups of the Graham Institute and the broader campus community.
Team Activities:
Gathered feedback from key constituencies, and identified trends
Recommended specific goals and actions to address the four UM Domain Areas for diversity, equity and inclusion (education and scholarship; recruitment, retention and development; promoting an equitable and inclusive community; and service) 
Develop a summary plan to communicate objectives, and continue to assist with measuring progress towards diversity efforts
See the Complete Plan and the Summary Plan: 
Click Here the Mid-Year Progress Update
System-wide Change & Applications
The Graham Institute will increase and focus our efforts on diversity, equity and inclusion, through sustainability education and scholarship, daily interactions with faculty, students and staff, communications and marketing, opportunities for employment at the Graham Institute and funding opportunities for students and faculty. Across Graham Institute programs, diverse stakeholder perspectives are embedded throughout the process of engaging with and across many cultural, disciplinary, and sectoral boundaries.
Faculty, students and others engaged in the Graham Institute regularly communicate with stakeholders on campus and other external groups. In addition, Graham Institute staff facilitate communication with a variety of key groups. These groups include, but are not limited to: Graham Institute administration (leaders and staff); UM campus groups, including students, faculty, staff, engaged with the Graham Institute and Centers, and other efforts managed by the Graham Institute; and external groups, including faculty at other institutions, alumni, partners and stakeholders engaged with the Graham Institute, centers and programs.

U-M Diversity, Equity and Inclusion Resources
Uniformity is not nature's way, diversity is nature's way. — Vandana Shiva
Contact
For questions, comments, or to get involved send an email to the Graham Diversity Planning Team: GrahamDPG@umich.edu