Graham Sustainability Institute Diversity, Equity and Inclusion Statement 
At the Graham Sustainability Institute, our dedication to academic excellence for the public good is inseparable from our commitment to diversity, equity, and inclusion. Our mission of engaging, empowering, and supporting faculty, staff, and students to foster sustainability solutions includes ensuring that each member of our community thrives. We believe that diversity is key to individual empowerment, and the advancement of sustainability knowledge, learning, and leadership.
— Statement developed by the Graham Diversity, Equity, and Inclusion Planning Team
Strategic Plan and Summary Plan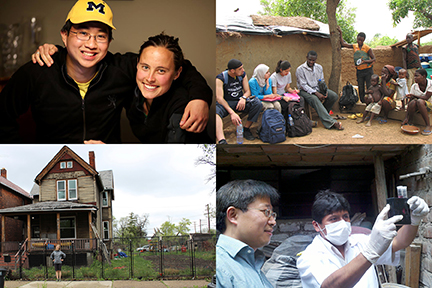 System-wide Change & Applications
Through the implementation of this strategic plan, the Graham Institute will increase and focus our efforts on diversity, equity and inclusion (DE&I), through sustainability education and scholarship, daily interactions with faculty, students, and staff, communications and marketing, opportunities for employment at the Graham Institute and funding opportunities for students and faculty. 
Across Graham Institute programs, diverse stakeholder perspectives are embedded throughout the process of engaging with and across many cultural, disciplinary, and sectoral boundaries. The Institute supports engagement with a variety of organizations, including but not limited to U-M campus groups, including students, faculty, staff; and external groups, including faculty at other institutions, alumni, partners, and stakeholders engaged with sustainability efforts.
Team Activities
Upcoming Activities
Fall 2017: U-M Faculty and Student Campus Climate Survey
Fall 2017-Winter 2018: Support student-led 2nd year Eco Equity effort
Fall 2017 - 2020: Additional DE&I training and skill development opportunities for staff and supervisors will be held.
Articles & Reports
2016-2017
Fall 2016-Winter 2017: Fully implemented plan for all scholarship and grant applicants to address DE&I in application materials; Graham staff will identify themes and include in DE&I report.
January 2017:
Distribute all professional (job), scholarship, and grant opportunities to a broader, more diverse audience
Each job or funding opportunity includes clear language about Graham's commitment to DE&I
Implement updated hiring and selection guidelines.
Implement additional updated policies.
November 2016-March 2017: Contributed to U-M Staff Competency Development
February: Graham DE&I students led an Eco Equity Roundtable to connect student leaders and identify opportunities for future efforts.
March-April 2017: Encourage participation in U-M Staff DE&I Campus Climate Survey
Ongoing - Monthly: Participate in DE&I Lead Meetings (Faculty, Staff, Administrators)
Ongoing - Academic Year:
Support Graham DE&I Meetings (staff and students)
Continue encouraging students to think critically about and form connections between DE&I and sustainability through engaged research projects, diverse input, and community involvement
Encourage Student Sustainability Initiative (SSI) to determine how new board members will address DE&I.
2015
November: Assembled a diversity, equity, and inclusion planning team (DPT). Members of the Graham DPT include students, staff and Graham leadership and reflect the racial, cultural and other diverse groups of the Graham Institute and the broader campus community.
Gathered feedback from key constituencies, and identified trends
Recommended specific goals and actions to address the four UM Domain Areas for diversity, equity, and inclusion (education and scholarship; recruitment, retention and development; promoting an equitable and inclusive community; and service) 
Develop a summary plan to communicate objectives, and continue to assist with measuring progress towards diversity efforts

U-M Diversity, Equity and Inclusion Resources
Uniformity is not nature's way, diversity is nature's way. — Vandana Shiva
Contact
For questions, comments, or to get involved send an email to the Graham Diversity Planning Team: GrahamDPG@umich.edu