Ann Arbor Climate Impact Videos Cities like Ann Arbor, Michigan are at the forefront of dealing with the causes and effects of climate change. And now—thanks in part to contributions from the Climate Center at University of Michigan's Graham Sustainability Institute, the city this month released a series of Climate Impact videos to educate and engage the community about this critical issue.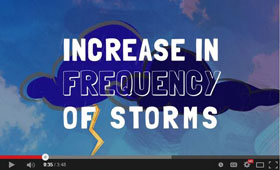 There are four videos covering four topics: Climate Adaptation, Extreme Storm Events, Forests, and Heat. The City plans to share the videos with various community partners and groups as part of its Community Climate Partnership (CCP), which is pursuing community-level strategies to reduce greenhouse gas emissions and prepare the City for climate change impacts. They are also available online at www.a2energy.org/climate.
The project was initiated last fall when the Graham Institute, through its Great Lakes Adaptation for Cities (GLAA-C) initiative, granted $12,500 to the City of Ann Arbor to support the creation of a series of educational and promotional materials to raise awareness about climate change in Ann Arbor and to facilitate a community conversation about strategies for local climate adaptation and resiliency.
The videos draw on research and expertise provided by the Climate Center 's Great Lakes Integrated Sciences and Assessments (GLISA). They also feature several local climate adaptation experts and practitioners, including several from the university.
"The City of Ann Arbor recognizes the serious challenges that a changing climate poses to the local environment, economy, and livelihoods," said City of Ann Arbor Environmental Coordinator Matthew Naud. "We also recognize that there are practical actions that the city, businesses, and residents can take to make our city more resilient.  These new videos are an important first step to educate the community about strategies for adapting to a changing climate, and we're very thankful to the Graham Institute for providing the climate-measurement data and resources needed to create them."
Some key topics and messages covered in the videos include the following:
Climate Adaptation - Ann Arbor is already experiencing climate impacts, and a summary of climate impacts is provided.
Extreme Storm Events - Ann Arbor has seen a 38 percent increase in the strongest (one percent) storms in the past 30 years, compared to the previous 30 years.
Forests - Throughout this coming Century, Ann Arbor's maple, beech, and birch forests will be slowly replaced by oak and hickory forests from the south.
Heat - Ann Arbor is already experiencing warmer average temperatures, and temperatures are expected to further increase.
"The Climate Center is bringing researchers and practitioners together to develop actionable climate adaptation programs in the Great Lakes region," said GLAA-C Project Manager Ashlee Grace. "We're glad to have such a positive and productive working relationship with the City of Ann Arbor and happy to see our contributions put to such good use."
Beth Gibbons, director of the Climate Center comments:
"I highly encourage everyone to log on to view these videos," she says. "They truly bring to home the urgency with which climate change is impacting us and, more importantly, what we all can do as a community to adapt."
Learn more, and watch the videos, at www.a2energy.org/climate.