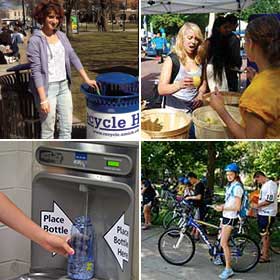 We lead this University-wide program to provide U-M community members with baseline sustainability knowledge and cultivate leaders who promote and model sustainable practices on and off campus.  There are two primary components of this innovative program:
To become a "certified" Planet Blue Ambassador, U-M community members complete five online training modules focused on: energy, food, waste, water, and community awareness. As part of the program, Planet Blue Ambassadors also pledge to take environmentally responsible actions in each those areas. Each month, the program hosts information sessions, trainings, outings, and discussion opportunities for Ambassadors. Some participants have even taken the initiative to form "Planet Blue Green Teams," working with friends and co-workers to discover the best path to sustainability for themselves and their workplace.
There are two key aspects of being a Planet Blue Student Leader: education and service. Each semester, students who are accepted into the program (limited to 15 returning students and 15 new students) are required to take a one-credit course called "Planet Blue Ambassadors Training & Assessment." Students also dedicate three to five hours per week to directly engaging with their peers in the residence halls about how to live more sustainably. Through this valuable combination of in-class learning and on-campus volunteer work, students gain the leadership, organization, and communication skills necessary to have a positive impact on sustainability at U-M.