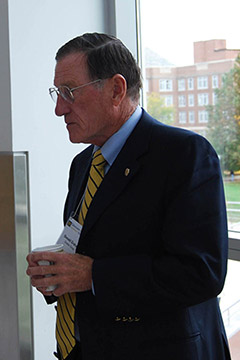 Graham Partners Video on SustainabilityDonald C. Graham, of York, PA, traces his involvement in sustainability to his father, Sam Graham, who was a professor in the former School of Forestry at the U-M (1927-1961), the predecessor of today's School for Environment and Sustainability. The senior Graham was a pioneer in what is now called environmental sustainability.
In the 1940s and 1950s, before many environmental issues were generally recognized, Professor Graham published articles on the environmental consequences of DDT overuse and the threat of long-term water table problems. His son's commitment to the environment was reinforced, as an engineering student, when he recognized that his business school electives provided him with the skills to develop sustainable enterprises.
Don Graham founded Graham Engineering Company in 1960, starting with no capital, in his farmhouse office in rural Pennsylvania. The Graham Group now makes numerous products through world-wide operating companies including plastics, construction materials, irrigation products and household appliances as well as managing four investment companies.
Mr. Graham is an active supporter of a diverse and substantial number of projects dealing with cultural, environmental, and community issues. He has supported and served on boards and committees at several academic institutions. Specifically, he has funded endowed chairs at Babson College and the University of Michigan and co-funded the Graham Endowment Fund in Manufacturing to recruit top students to the U-M's Tauber Institute for Global Operations. Mr. Graham also funded the York College Opportunity program that provides scholarships and mentors to minority youths seeking a college education. Don is a member of the University of Michigan President's Advisory Group, the College of Engineering National Advisory Committee, and, along with his wife Ingrid, is an Honorary Co-chair of "The Michigan Difference Campaign."
His environmental interests extend globally as chair of the board of trustees of the Mpala Foundation in Kenya. The Mpala Foundation supports local community health, education, and resource management through the funding and administration of a health clinic, school, research center, and a ranch and wildlife conservancy project.
In February 2004, Mr. Graham worked with the University of Michigan Provost to initiate a study with the goal of encouraging and supporting multidisciplinary environmental sustainability research and education. Mr. Graham selected the U-M for its significant strengths in multiple fields integral to sustainability. In particular, Mr. Graham has a vision that while people – industry and society – have created many of the environmental sustainability issues we now face, they are also key players and partners in developing solutions to these pressing and complex problems. To that end, Mr. Graham has funded the Graham Institute to act as a catalyst and forum, where representatives from academia, industry, and government can work and be supported with the needed resources to integrate sustainability into education, manufacturing, and policy development.
Mr. Graham holds three degrees from the University of Michigan – a bachelor's in mechanical engineering, a master's in industrial engineering and business management, and an honorary doctorate of engineering.  He also holds an honorary doctorate from the York College of Pennsylvania.
The Graham Institute was founded in honor of Mr. Graham's father, Prof. Samuel A. Graham, who is shown in the historical photo of U-M faculty below (in front of the tree on the left).